"Nerodia In Repose" by Susan James and Ken Wilkens pictured above.
Susan James and Ken Wilkens of Passerina Press are a husband and wife creative team based in Florida. Susan has been a print maker for the past 30 years and Ken has been a photographer for the past 40 years. "When we met, we found a way to combine our talents into something new, which is also something pretty old (fashioned) - traditional copper plate photogravure. Our studio, Passerina Press, is based in Punta Gorda, Florida." The studio's website, www.passerinapress.com, showcases the couple's portfolio, artistic process, and more.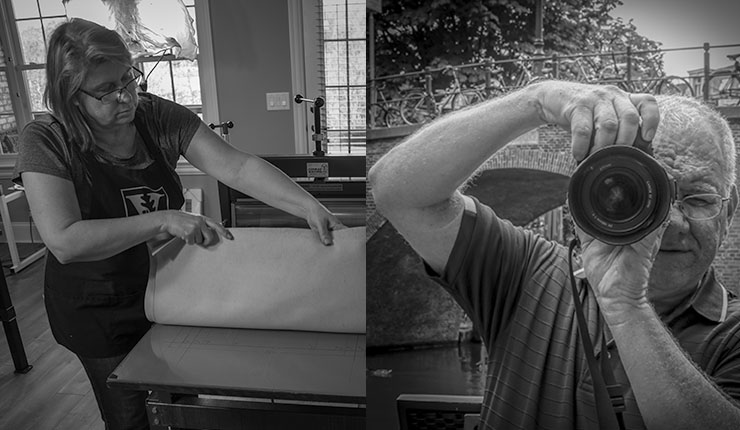 If you pay attention and maintain an open state of mind, growth is inevitable.
Susan began drawing as a child, and Ken learned photography from his father. "[Susan] used to work in pen and ink, and then discovered intaglio etching through printmaker David Hunter in 1985 and never looked back! Ken learned photography from his father and taught it to [Susan]. We took a photogravure workshop together in 2015 and have been developing our studio practice in this historic art form since then." Susan and Ken enjoy the ability that working with Photogravure provides to connect with the history of the art form. "Making a Photogravure is like getting into a time machine. We use modern cameras (even iPhones!) and software to capture and edit images, 19th century technology to produce the plates through the Talbot-Klic method, and 15th century technology to create the prints on a traditional etching press."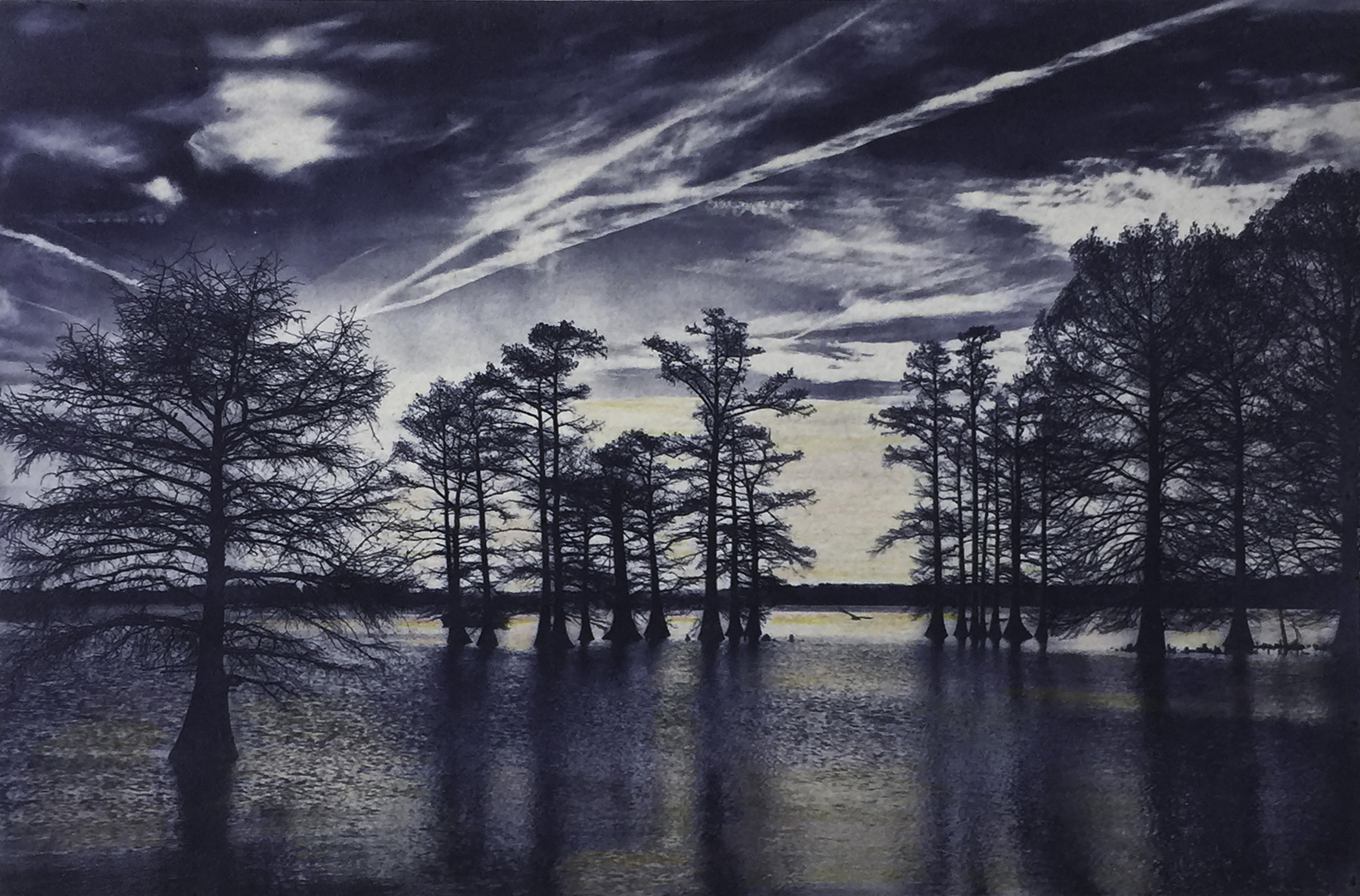 "Cypress Sunrise" by Susan James and Ken Wilkens pictured above.
Susan's favorite art piece is "Nighthawks" by Edward Hopper. "I finally got to see it in person at the Art Institute of Chicago in 2018!" Ken enjoys high fantasy art, particularly "North Watch" by Keith Parkinson. "I like high fantasy art, especially dragons. Susan gave me a limited edition serigraph of this piece for Christmas a few years ago." In their own work, Susan and Ken enjoy creating landscapes and wildlife. On this, Susan responds, ""I really like photographing and making plates of landscapes that feature fantastic cloud formations. If there's an interesting animal or person in the foreground, all the better." Ken responds, "I like being outdoors and photographing wildlife. I don't mind going long distances or dealing with challenging conditions when I want to capture a photo of a rare or unique animal or bird in its natural environment."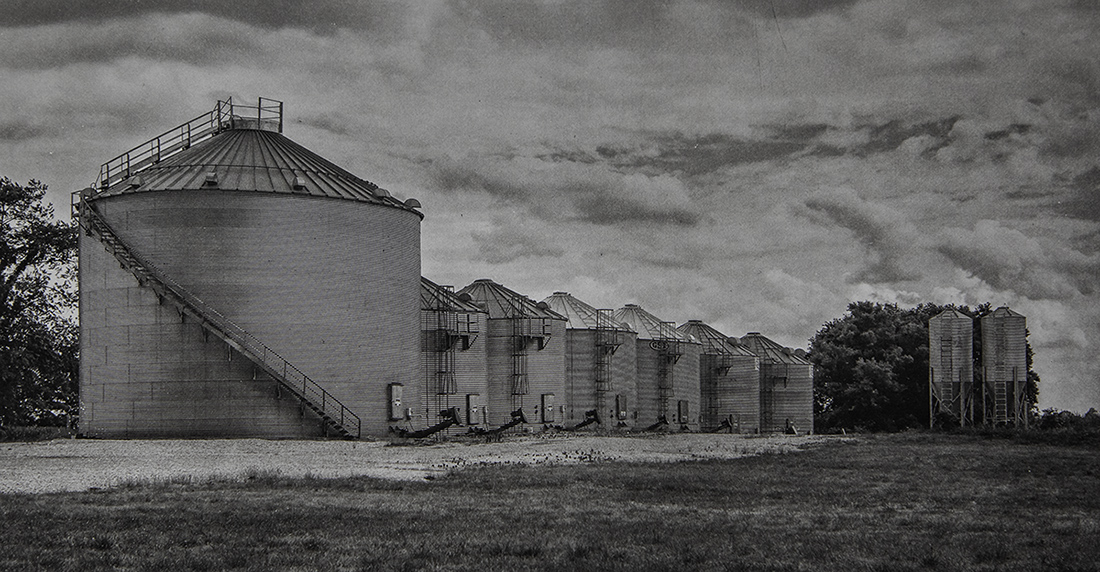 "Bins+Hoppers" by Susan James and Ken Wilkens pictured above.
When beginning a new piece or project, Susan and Ken inspire each other. "One of us will read something about a great place to go to photograph birds, or some special event, and then the other will start doing research on how to get there, when is the best time to go, etc... After our outing, we'll sit together at our workstations going through hundreds of photographs and picking out the ones that would make great photogravures." To aspiring artists, Susan and Ken encourage learning from other experienced photographers and artists. "Our advice for anyone who wants to get better at doing anything: surround yourself with people who are doing that thing better than you do it. If you pay attention and maintain an open state of mind, growth is inevitable. Also, for the photographers out there - the great shots aren't going to fall into your lap. You have to put yourself in a place where something interesting is likely to happen. Keep an eye out for a compelling background, and then settle in and wait - the light will change just so, or something will come into the frame, and there's your shot."
Susan found Golden State Art in 2016. "I frame all of our artwork myself and needed a mat supplier who provided quality mats within reasonable timeframes and at a reasonable price. I'm thinking of trying GSA frames too, as lately it is hard to find decent quality frames at a reasonable price."
Visit Susan and Ken's website and social media below to learn more about what they do and view more of their work!
Susan and Ken's Website:www.passerinapress.com
Susan and Ken's Instagram: @passerinapress
Susan and Ken's Facebook: @passerinapress
View more of Susan and Ken's artwork below.
---