"Bumble Bee" by Bryan Clocker pictured above.
Bryan Clocker is a printmaker and illustrator based in New England. His love and passion for nature and wildlife is reflected in the art he creates and shares through his art gallery, Mountain Bird Studios. "I have a deep love and passion for nature and wildlife, especially birds. I take this passion and turn it into unique captivating pieces of artwork that I sell online and through fine art shows across the country." He launched Mountain Bird Studios in 2018 after graduating from college with a BFA in printmaking and a BA in graphic design. "[The studio] was my first step into the fine art world professionally. I just celebrated my 3 year anniversary in March for my first art show!"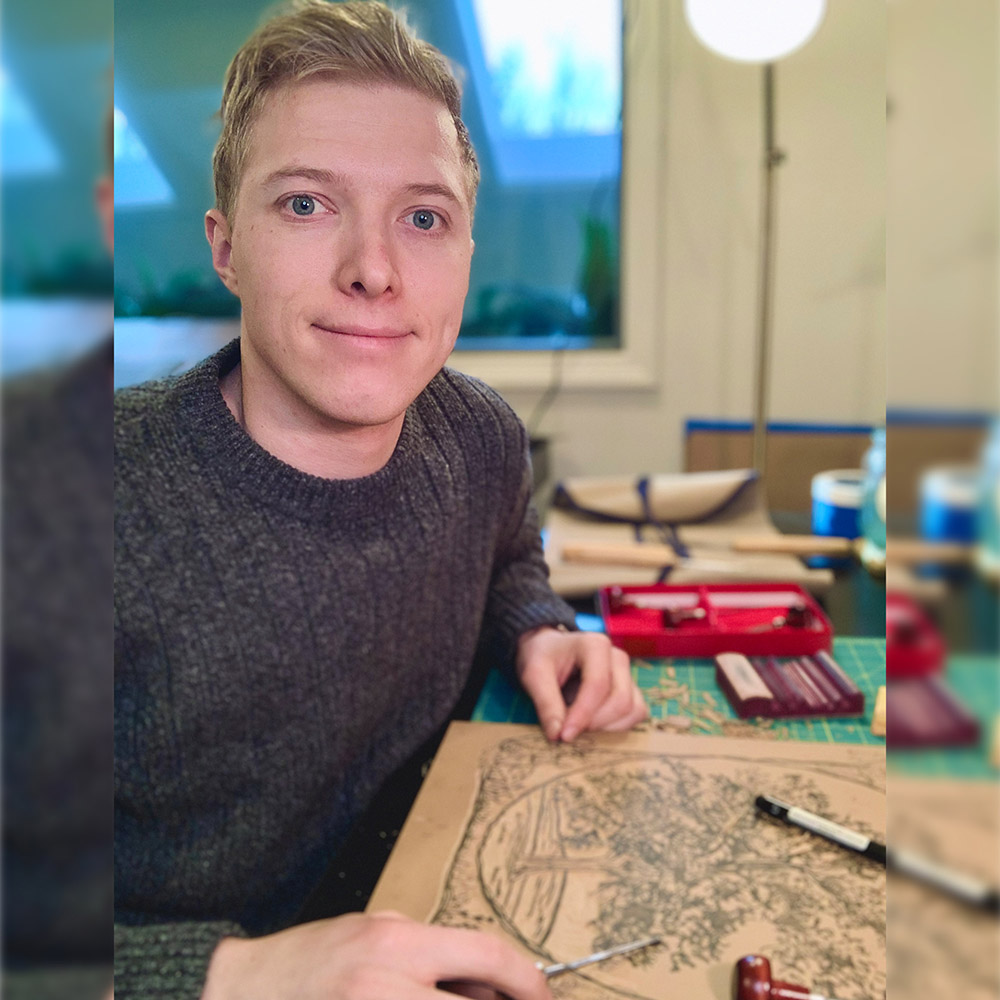 Bryan's love for the arts began in his childhood through many creative outlets, and contributed to the artist he is today. "I was always drawing, painting, or doing something creative. Growing up with dyslexia, I had a lot of challenges in school with reading and writing. One of my outlets and something I excelled in was art. I dedicated myself to becoming an artist since entering middle school, and I have followed through ever since."
Bryan enjoys the different steps involved in creating a finished art piece the most. He describes the process below:
"I mainly do block prints and to make a print, I first start with a sketch. I spend a lot of time sketching and drawing out a composition for the print. I use markers and pens to emulate a carving. Once the sketch is done and I get my drawing transferred onto my block, I begin the long process of carving. When carving a block print you carve out all the negative space and leave behind what you want to be printed. This creates a raised surface on the block that allows you to roll up ink on the block and create a print. I print all my blocks by hand. My final step is to go back and paint with watercolor over my print. This makes each print its own unique piece of art. Making one print can take weeks or even months. Working through so many steps keeps me from getting burned out and allows me to enjoy each stage of creating a piece of art."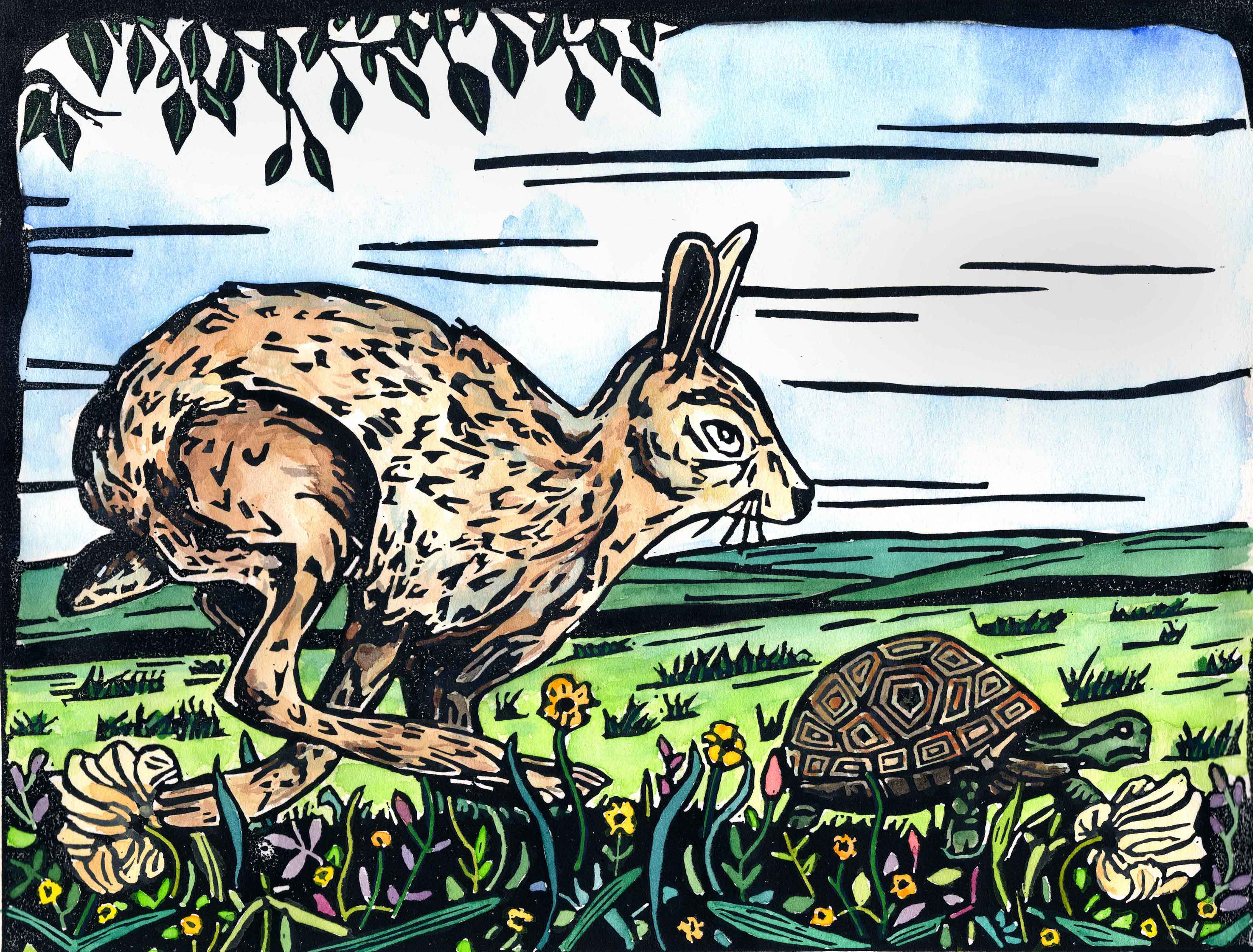 "Tortoise and the Hare" by Bryan Clocker pictured above.
Bryan enjoys and is inspired by the work of artist Thomas W. Nason, a printmaker specializing in wood engravings. "He captured a lot of New England scenes and ways of life. He is probably best known for his illustrations being alongside Robert Frost's poems, in the illustrated edition of a collection of Robert Frost's work. I am inspired by the way Nanson provides depth and movement in his pieces." Within his own work, Bryan mostly creates scenes of nature and wildlife. "I especially love birds! My grandparents are avid birders and enjoy going out looking for birds with their binoculars. They passed down their love of birds to me and I have enjoyed learning about birds, migrations, setting up my bird feeders and watching them come through!"
When starting a new project or piece, Bryan is usually inspired by a certain subject and then conducts research to ensure it is represented authentically. "If I am doing a particular bird or animal, I research the subject, find images, and learn a little bit about the habitat and environment. I also love books. I have a variety of different references, artists, and image books. I go flipping through the pages for additional inspiration."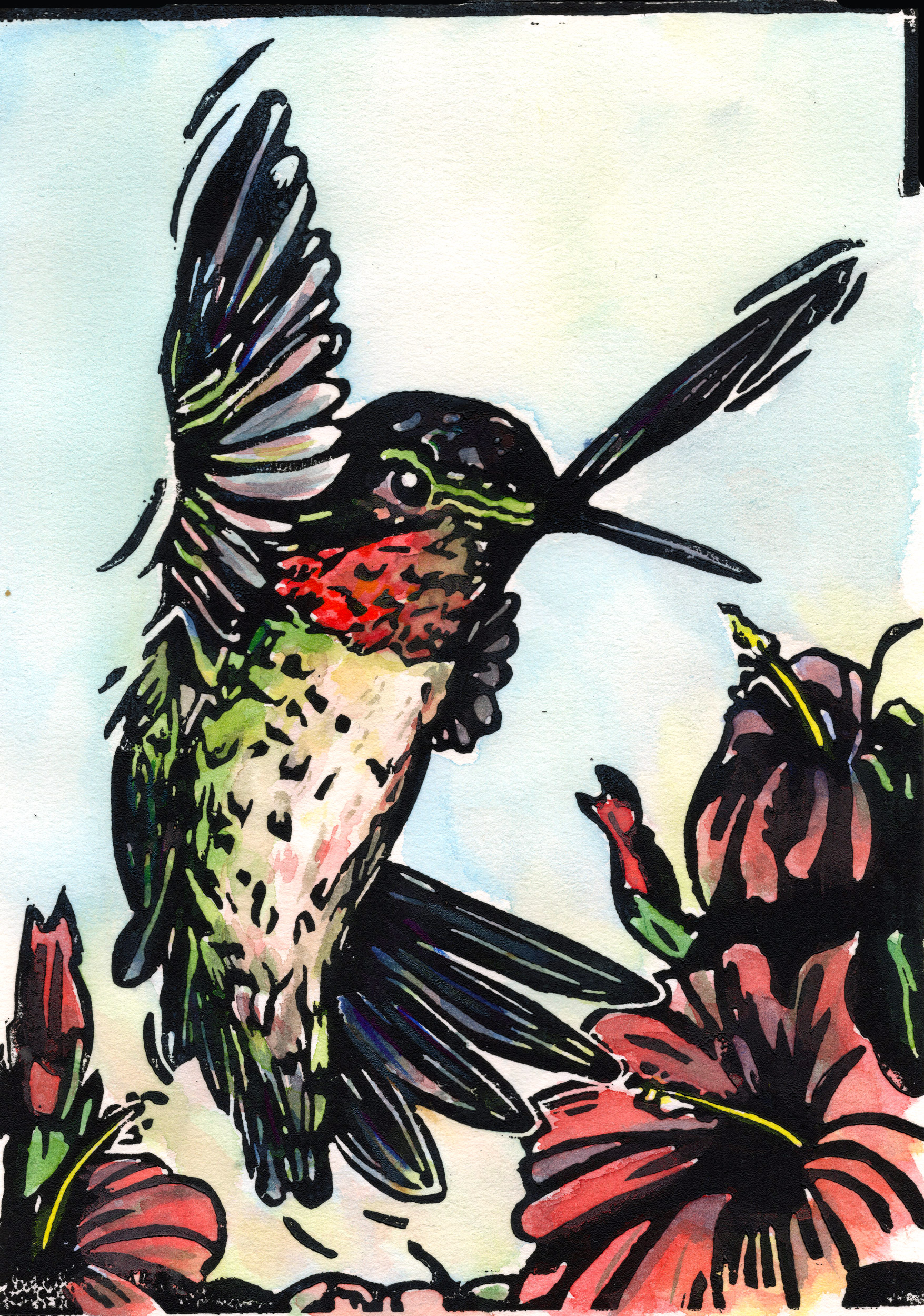 "Ruby Throated Humming Bird" by Bryan Clocker pictured above.
To aspiring artists, Bryan encourages persistence and making art a part of your every day routine. "My biggest advice I would give to aspiring artists would be to get into a daily habit of making art. Whatever your thing is, make sure you carve out time to practice it everyday even if it's for only 20-30 minutes. You will really start to see your craft improve and become more constant." He found Golden State Art as a college student when he began matting and framing his artwork. "I especially took note when I started selling my artwork in shows and have used your mat kits for several years. The Golden State Art products have really helped elevate my artwork. Most everything I sell comes matted and having nice quality mats takes my finished pieces to another level. Also, the pre-cut sizes save me so much time in prepping for shows."
Bryan's current project is a series of owl prints. "I was inspired by the Arts and Crafts movement, and I am carving these ornate borders around each owl. There are themes that relate to each owl's environment in the border. I am currently working on a snowy owl print, and I have finished the great horned owl. I plan to do the barn owl next and go from there. I am really proud of these prints and believe they are my best ones to date!"
Stay up to date on this project on Bryan's website, bclockerart.com, and Instagram @bclocker.art.