"Bird of Paradise Meditation" by Sami Lange pictured above.
Sami Lange is a professional artist based in Phoenix, Arizona. She creates mixed media paper art and her artwork is featured in collections all over the world. "I work and live in Phoenix, Arizona. I have been a professional artist for 18 years, and have been dyeing and cutting paper for about 14 years." Visit her website to view and shop her artwork, read more about her, and more at www.samilangeart.com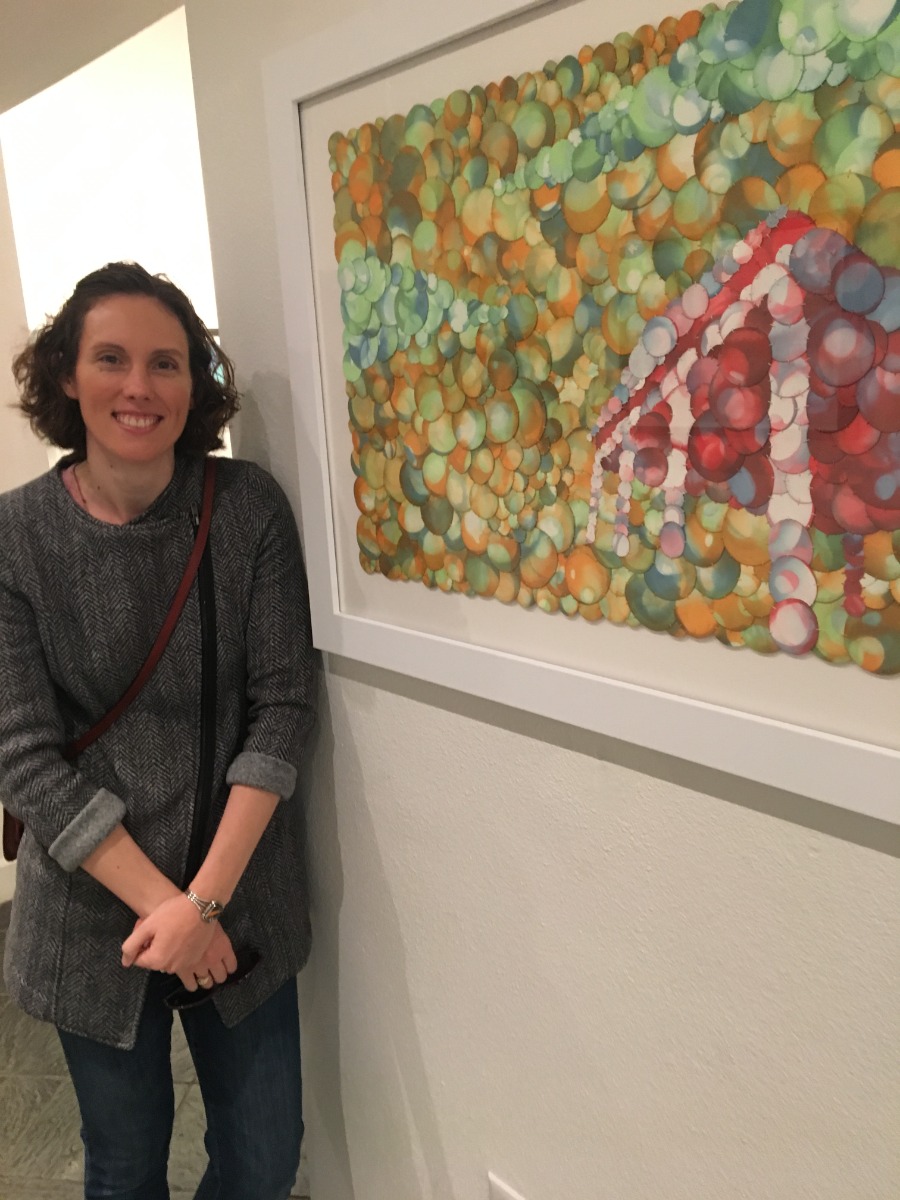 The road to being an artist, and being happy with your work can be a long one. That's okay.
Sami Lange
Sami began creating art at a very young age. "I can't remember a time when I wasn't making something creative. When I was younger it was painting and mosaicking furniture or making collages. Once I graduated from college with a BFA, the work on paper began. I am so inspired by the landscape and colors in the desert around me." As an artist, she enjoys the variety of work art affords. "Some days I will cut paper, some days I will lay out new paper quilts, and other days I write about my work or serve as my own packing, shipping and marketing departments."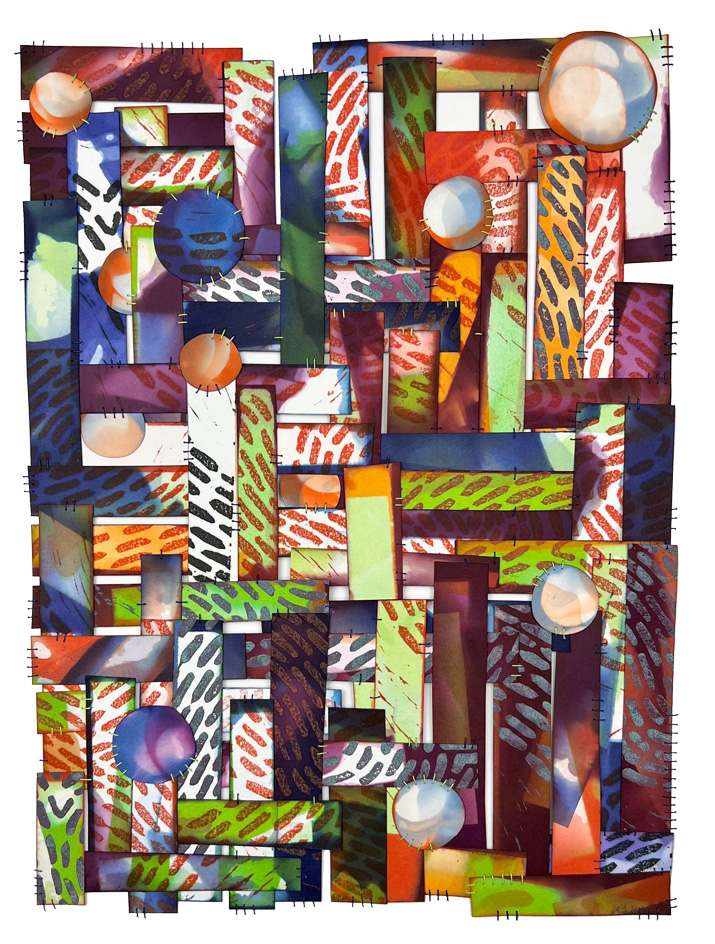 "Jungle Storm" by Sami Lange pictured above.
One of Sami's favorite art pieces is a piece by Sol Lewitt. "One of my favorite pieces is a Sol Lewitt piece at the Phoenix Museum of Art. It is a HUGE graphite drawing of a sphere directly on a wall. I love that it is unmovable and will always live on that wall. I can't imagine the time it took to make." In her own work, she enjoys creating series'. "I enjoy working in series. I will often get a single idea and then expand that idea in different formats and colors. One series I am working on currently is my meditation circle series. I cut, dye, and stitch paper into circle shapes and then meditate on those specific colors, to try and take in that energy (it could be bold and red, or muted and relaxed with sea blues)"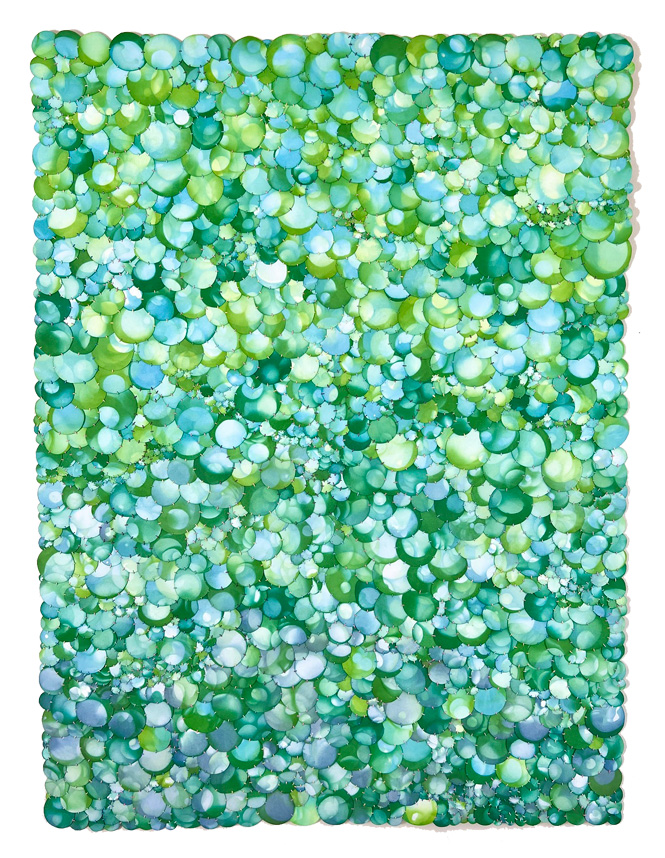 "Green Water Monster" by Sami Lange pictured above.
When beginning a new project or piece, Sami is often inspired by color. "Color is always the first inspiration. Once I have an initial idea, I begin with mixing up baths of dye color and go from there." To aspiring artists, she encourages keep moving forward. "The road to being an artist, and being happy with your work can be a long one. That's okay. It took my almost 13 years of struggling in the studio before I was making work that really spoke to who I was. That's okay - just keep showing up to the studio and making."
Sami discovered Golden State Art when looking for archival storage for her artwork. "I was looking for some archival storage materials and originally found Golden State through Amazon. Golden State is my go to for my archival bags to store all my work in my flat files and to show at a local art shop and gallery in Phoenix (Practical Art)." She is currently working on a new series. "I am working on a new series called the Paper Wind Series. The indoor sculptural works are made from strings of stitched paper that flow and move with any wind and make a beautiful and relaxing clicking sound."
To keep up with this and future projects, visit Sami's links below.
Sami's Website: www.samilangeart.com
Sami's Instagram: @samilangeart