"RollerSkate" by Mark Lembo pictured above.
Mark Lembo is an action artist based in Tampa, Florida. He began selling his artwork professionally in 2020 on his website, www.scriptm.com. "Back in 2005, while living in California, I started with action painting and came across some Calls To Artists in Watercolor Magazine. I entered exhibits and was juried into ten shows across the country over the next two years. Career and personal matters brought us to Tampa, FL, in 2010, and I stepped away from actively painting. Then in late-2017, I slowly started back painting, trying to create a web presence on Facebook. That turned out to be a start-stop cycle that lasted until late-2020. At that point, I made a commitment to get back to it, create a real website, and get out there (as much as one could, given COVID)."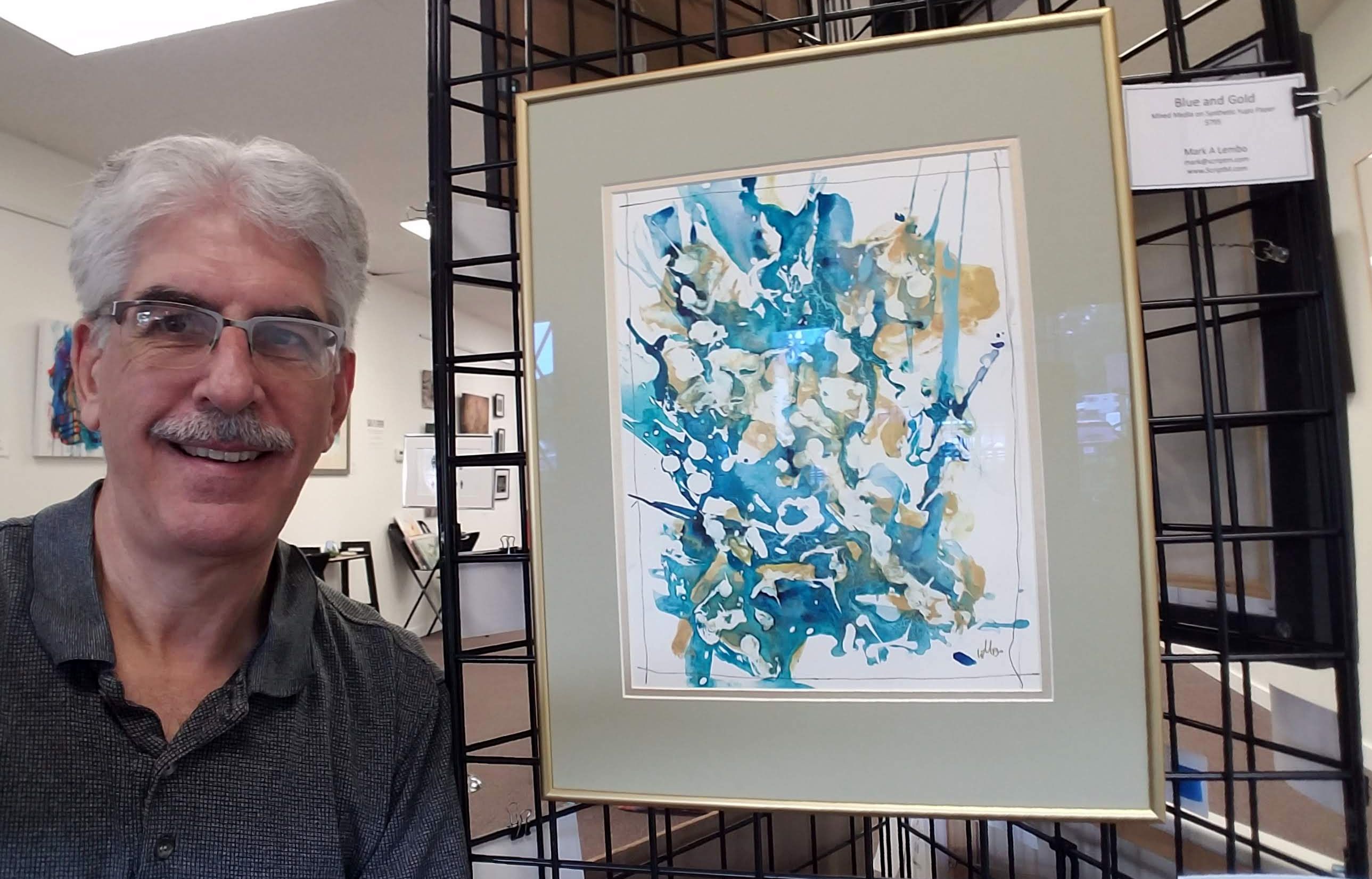 Look for opportunities, no matter how seemingly insignificant. You never know who you may meet and what connections may ensue.
While Mark has always enjoyed drawing and painting, it was after watching a documentary about the late Jackson Pollock that he really began honing his skills and technique. "After watching a documentary on Jackson Pollock, I wondered what his action paintings would have looked like had he used watercolor to leverage the transparency. So, I started with watercolors, inks, food coloring… anything that would pour, squirt and/or flow. I eventually started working with acrylic inks and then Yupo synthetic paper. It blurs the lines between mixed media, watercolor and alcohol ink works. I stay within a remarkably simple palette and am always amazed at the complexity you can create from three primary colors." As an artist, Mark most enjoys the process. "My process has always been calming and somewhat therapeutic. Mostly, I have come to understand how much I prefer creating - whether it is designing and remodeling kitchens, starting a business, or whipping something up in the kitchen."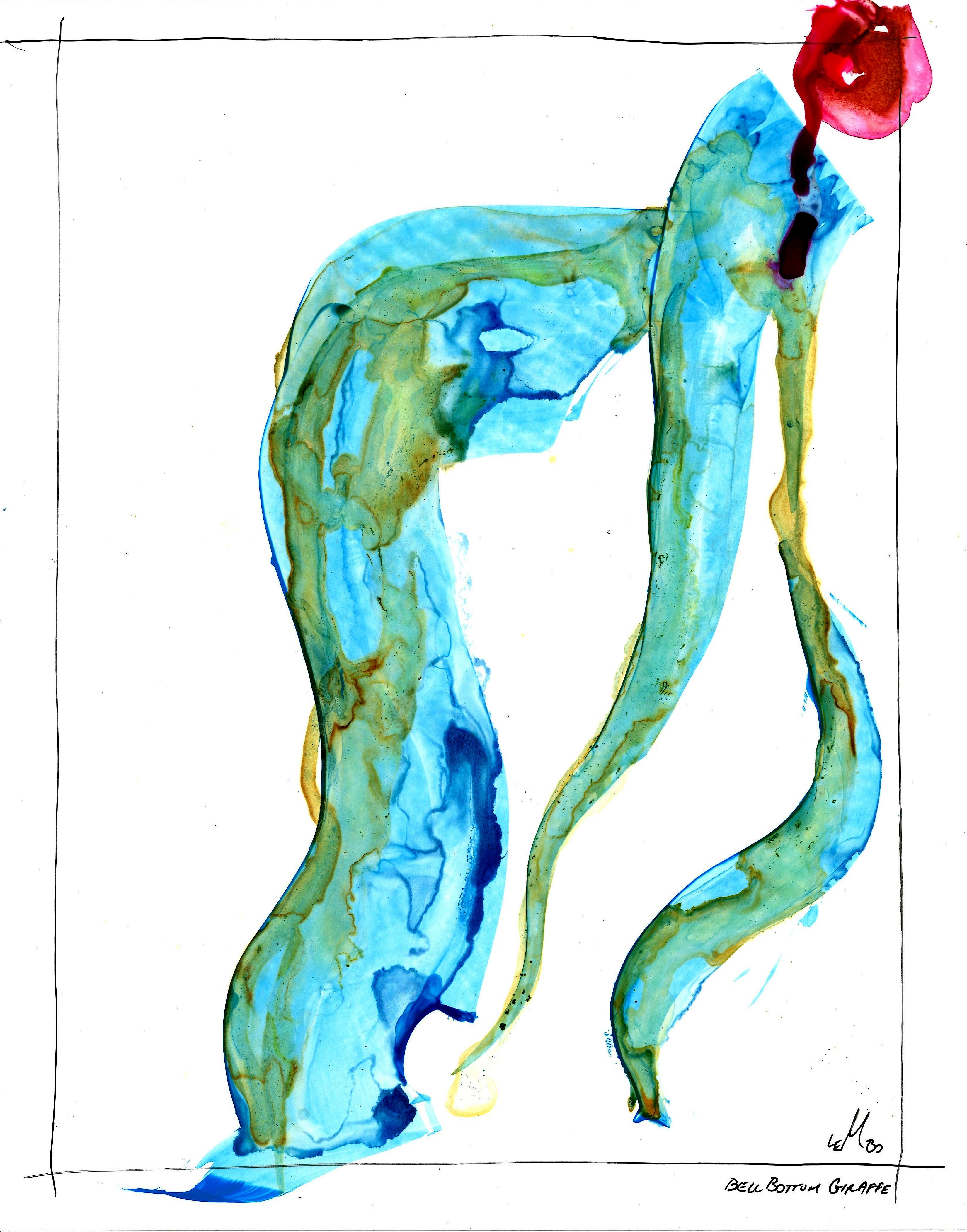 "Bell Bottom Girafee" by Mark Lembo pictured above.
Mark became inspired by a piece by artist Wassily Kandinsky during a visit to the Art Institute of Chicago which became one of his favorite pieces in the art world. "On a visit to the Art Institute of Chicago, I turned a corner and one of Wassily Kandinsky's works just stopped me in my tracks. His mastery of color and the composition were astounding. At that moment, the seed was planted for the possibilities that abstract art can open up. Even with the internet, I have yet to rediscover that particular work - or it just hasn't had the same impact. More recently, we saw an exhibition of Bassmi Ibrahim's work at the Leepa-Rattner Museum, here in St Petersburg. His large format works are dynamic and colorful. Certainly, an inspiration for the possibilities of pouring technique."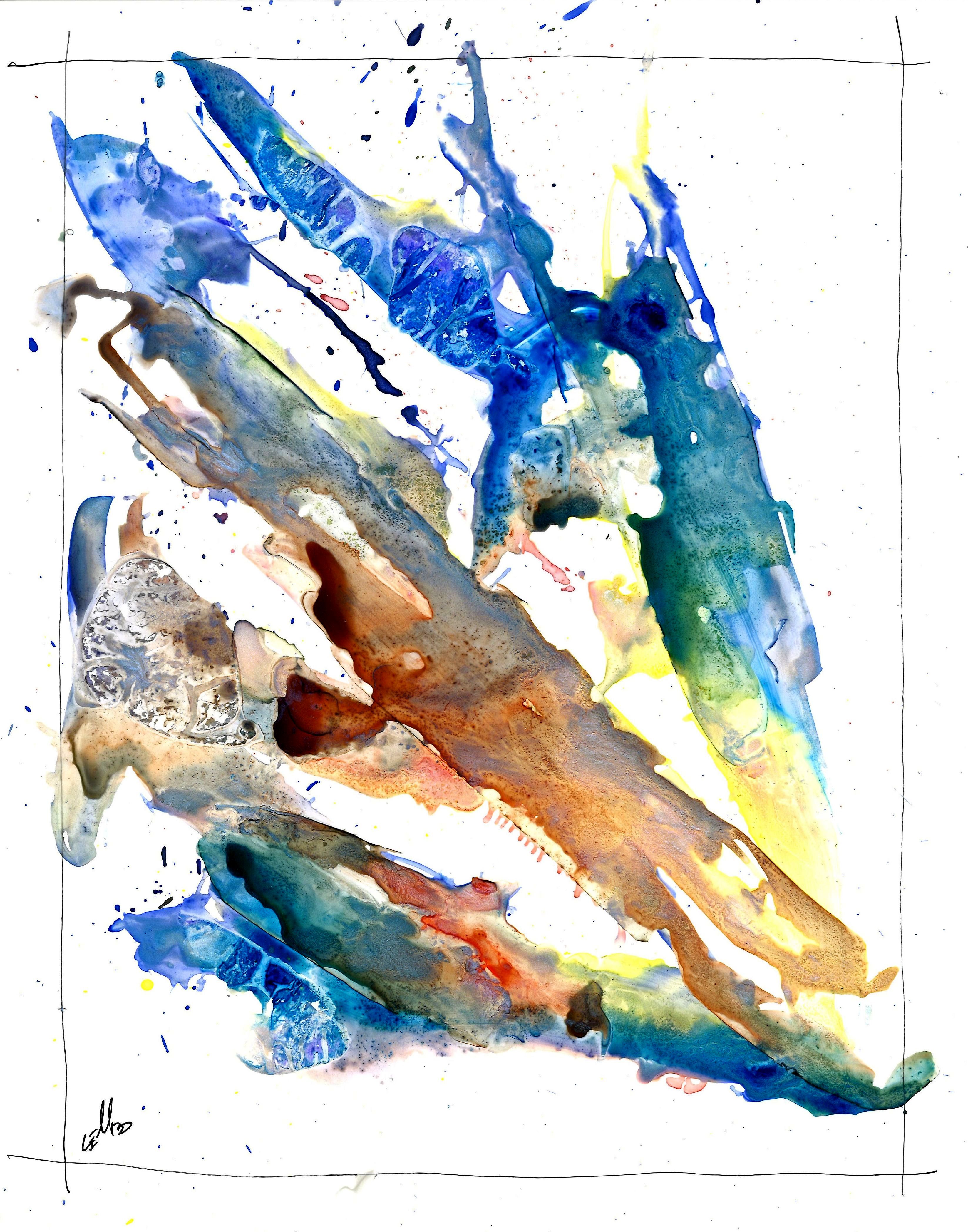 "River Mountain Sky" by Mark Lembo pictured above.
Within his own work, Mark enjoys creating unique abstract art. "Creating a unique abstract is far more enjoyable than my trying to create a still life or a portrait. The freedom of expression and the limitless possibilities are what excite me. I have the utmost respect for the artists that can create stunning representational work." When beginning a new project or piece, he is often inspired by music. "I have an eclectic playlist that ranges from Buena Vista Social Club to Dropkick Murphy's. My goal is to be unique and as original as possible. I never want to be perceived as copying someone else's style or work. It amazes me to see the dozens and dozens of acrylic pourers out there. The end results are nearly indistinguishable between artists. Reproduction, even in a loose and interpretive style, is not for me. I have done some still life and representational work, but it does not satisfy me nearly as much."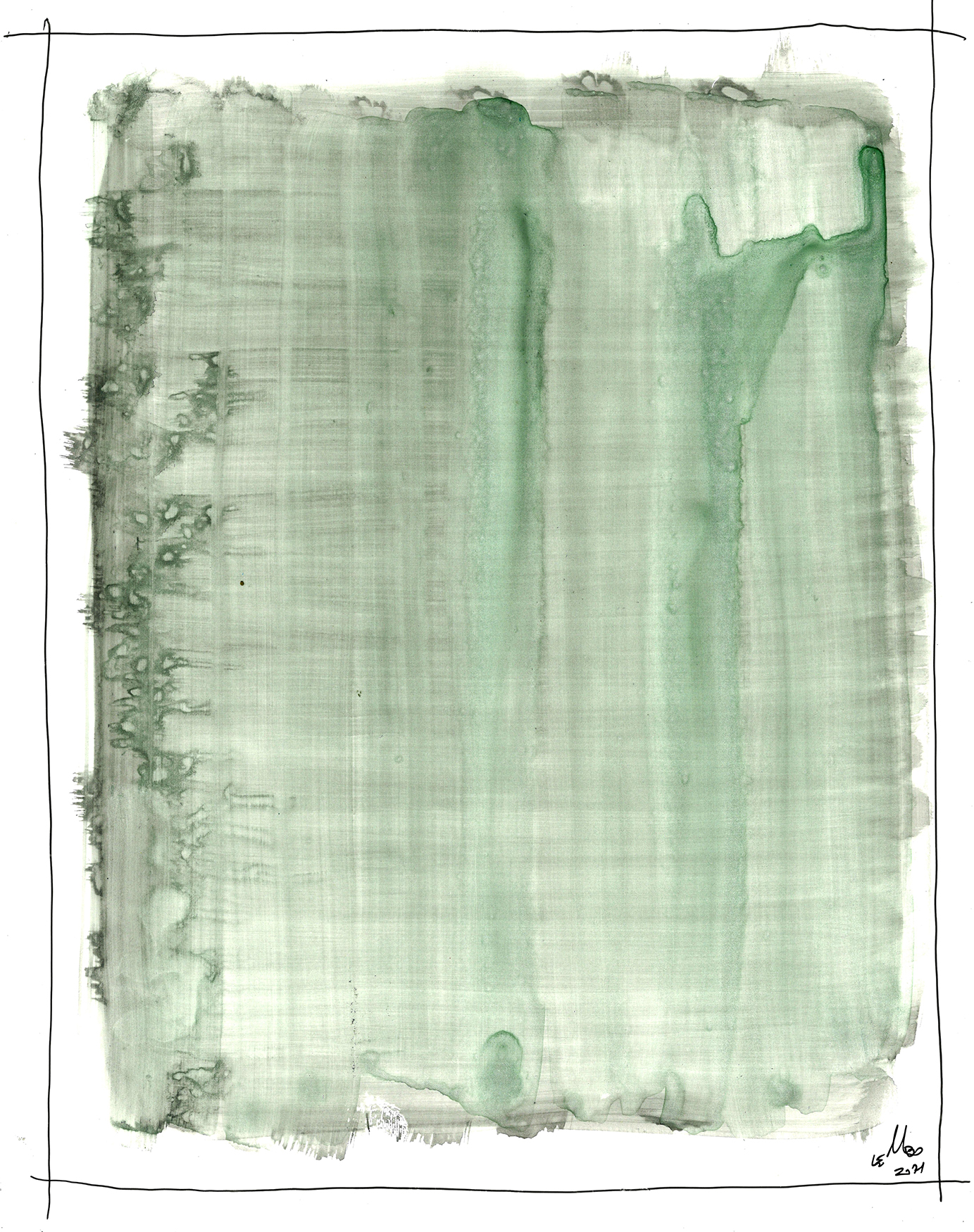 "Grey Green" by Mark Lembo pictured above.
To aspiring artists, Mark encourages persistence and an open mind. "Look for opportunities, no matter how seemingly insignificant. You never know who you may meet and what connections may ensue. I never say, "no," to an opportunity to display my work. There are a couple of particularly good local groups that coordinate exhibits at libraries, malls, and businesses. It is not the hits or traffic numbers online; it is the people you meet behind the scenes, the opportunity they may connect you to; and then you can generate some buzz/PR from the opportunity or exhibit."
Mark found Golden State Art online while searching for custom mat boards for a previous show he showcased his artwork in. "(Golden State Art) Provides an affordable, high-quality product that meets my exact needs. I work mostly in either 11X15 or 11x14 formats and have hand-draw margins on every work. Off-the-shelf mats are not a good fit for my work. Golden State Art allows me to customize the mats to best fit (and display) my work."
In July of this year, Mark showcased his artwork at the 32nd Annual Cool Art Show at the St Petersburg Coliseum. To keep up with Mark's future shows and artwork, click on the links below!
Mark's Website:www.scriptm.com
Mark's Instagram: @ScriptMAbstractArt
Mark's Facebook: @ScriptMAbstractArt
---