Lily Yllescas is a young artist based in Pasadena, California. She enjoys capturing the beauty of wildlife through both art and photography, and dedicates much of her time to its preservation and educating others. She details her many accomplishments and endeavors in the bio found on the back of her prints. "[Lily] has enjoyed volunteering as an education interpreter at the Aquarium of the Pacific since she was 9 and began scuba diving at 11. At 13, birds caught Lily's attention. She joined Los Angeles Birders and Western Field Ornithology Student clubs and, determined to draw the beautiful birds she was seeing, added photography to her endeavors." In 2018, her artwork was featured in the Pasadena Audubon Society's member publication. "Lily's drawing Red-Whiskered Bulbul with a Curious Eye was published in the Pasadena Audubon Society's member publication, The Wrentit, and also received Honorable Mention in the Pasadena Library Teen Drawing Contest 2018."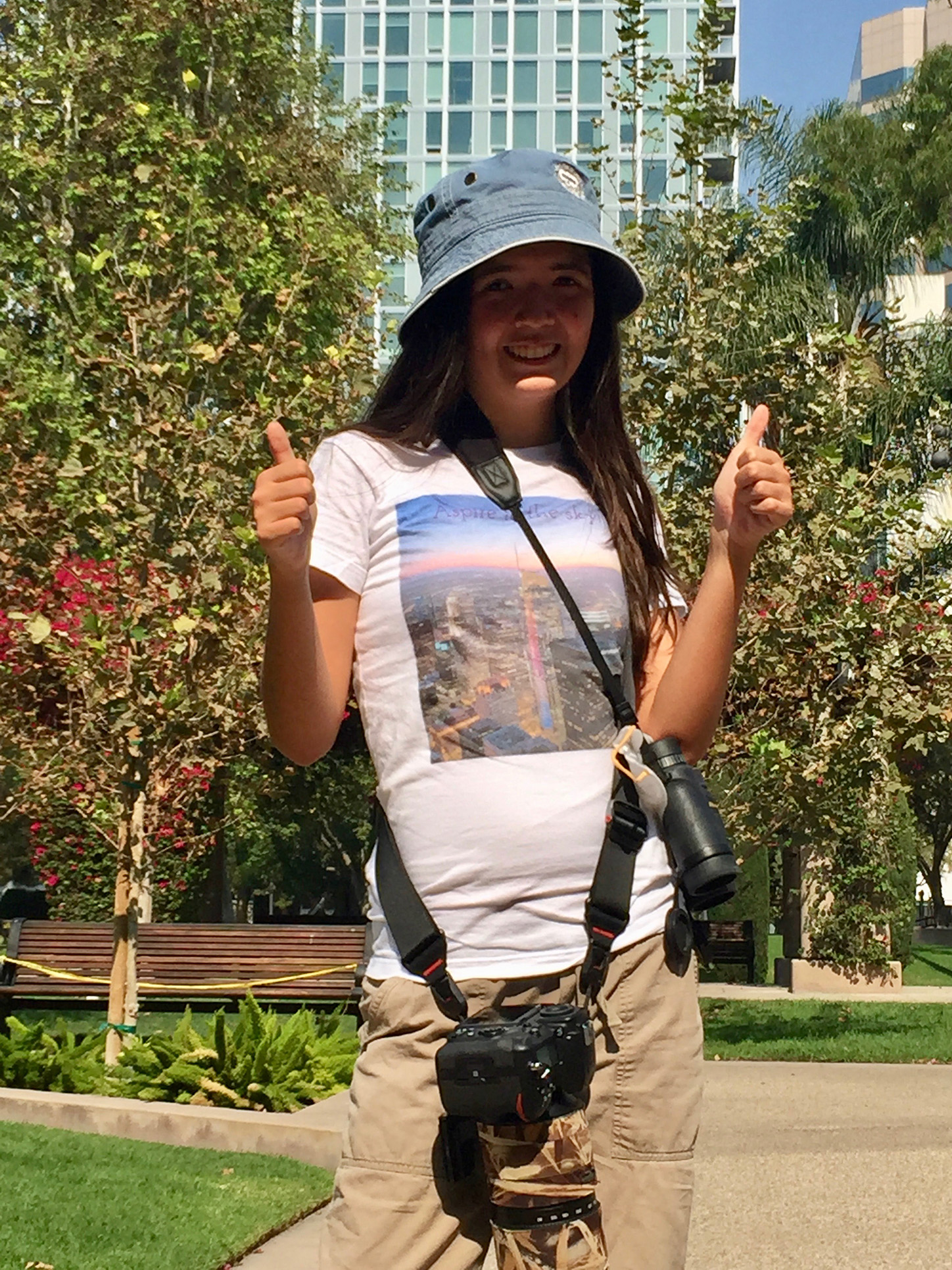 "Lily is proudly autistic. Her related challenges, strengths, and sensitivity gift her with a profound connection to nature and an eye, ear, and intuitive sense for detail and depth which lend to her creativity. Lily cares deeply for our planet and its inhabitants, and she feels grateful for your interest in her art."
Create what you love, the way you love to create it, be inspired, and don't be afraid to dream big.
Lily has been creating art most of her life, and was inspired to begin creating more by online artists she discovered and admired. "I have loved ocean animals for as long as I can remember and always enjoyed painting and drawing them for fun. About four years ago, inspired by artists I found online, I just wanted to improve, so I began following them and learning different techniques. When I got into birds, I decided I'd like to draw from my own memories and photos, so I began learning photography." As an artist, she enjoys the process and time each piece affords. "I love exploring and busying myself with what I love to do. Nature is so engaging and therapeutic."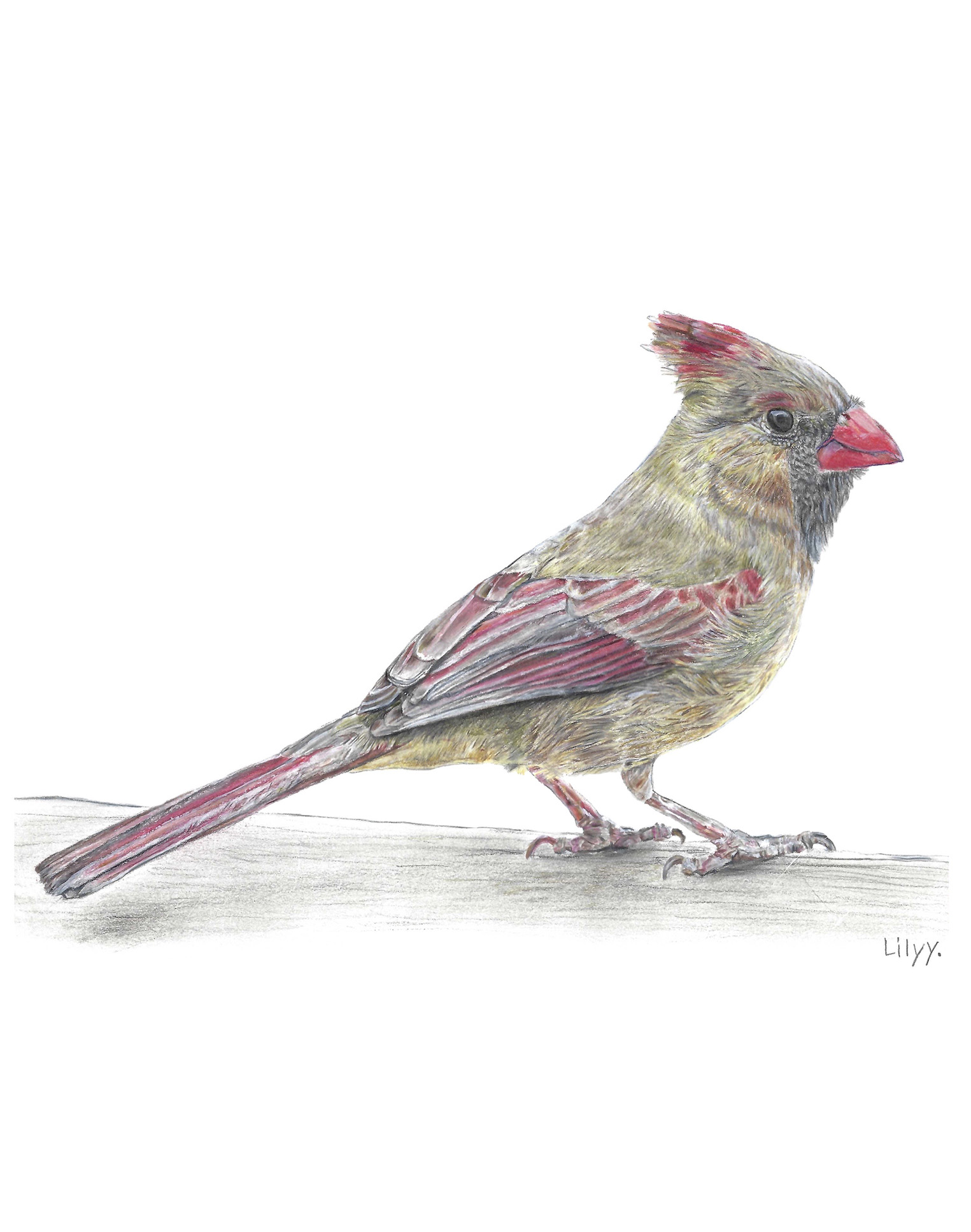 "Cardinal" by Lily Yllescas pictured above.
Lily's favorite piece of hers is entitled Growing Good. "...it's a California Condor and Maine Coon cat named K2. I drew it as a surprise for someone who is special to me. She does so much for everyone in my birders club and she cares so much about birds, all wildlife, and their habitats. She gives and grows so much good." The image is featured in the banner at the top of this post. She enjoys photographing and drawing birds she sees when out and about birding. "I hope to make more time to draw ocean animals again soon, too. All wildlife is cool and also so important. I hope that people will see my drawings and enjoy them, but also want to take better care of our planet."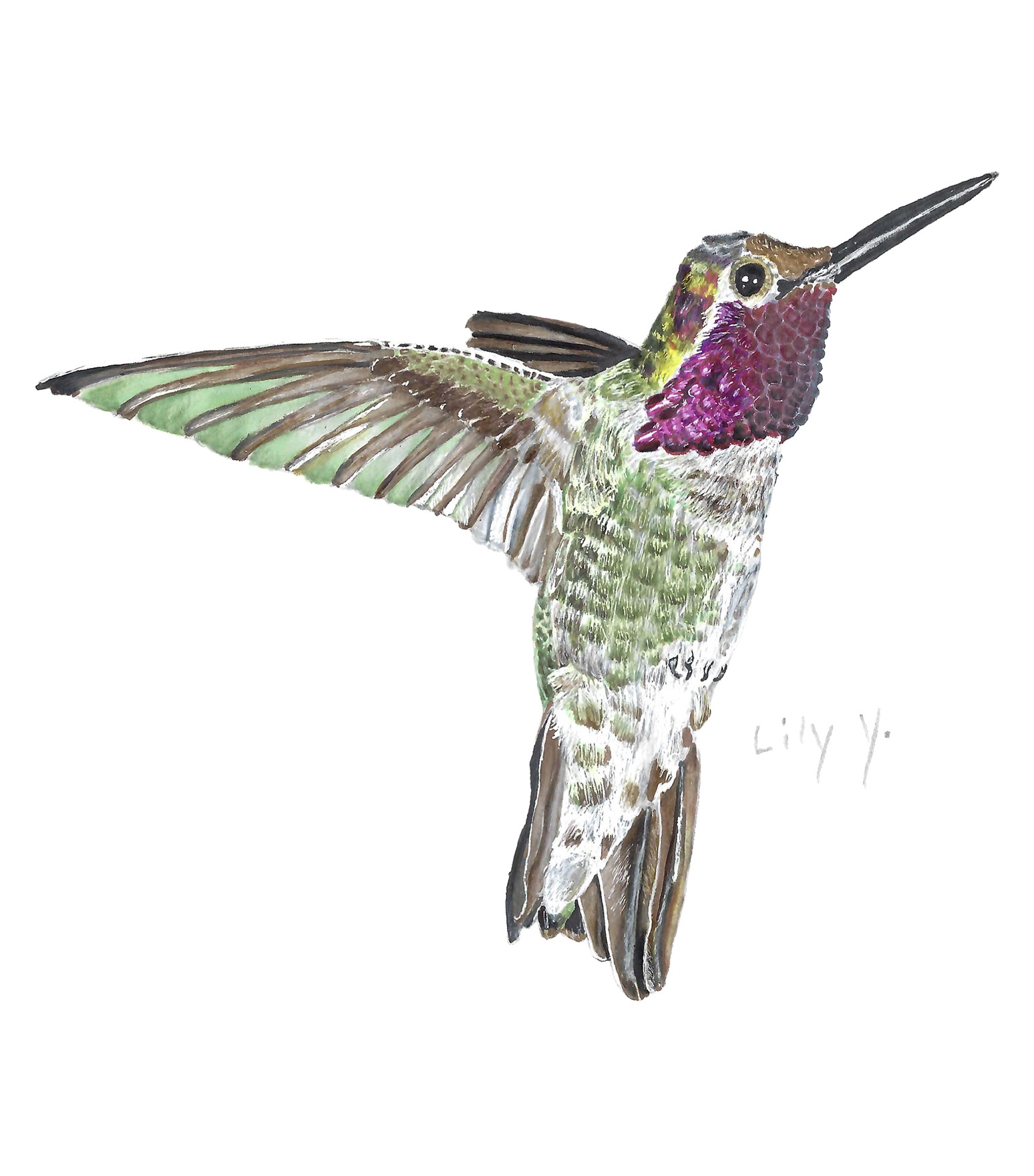 "Anna's Humm" by Lily Yllescas pictured above.
When starting a new project or piece, Lily becomes inspired by the world around her and the functions of nature. "I'm inspired by the way our ecosystem functions--how every insect and animal plays an important role and does what it needs to do to contribute." To aspiring artists and photographers, Lily encourages doing what you love, always. "Create what you love, the way you love to create it, be inspired, and don't be afraid to dream big."
Lily found Golden State Art when searching for mat boards to display and sell her prints in. "At the end of 2019, I started selling my art printed on notecards at a few holiday boutiques. When I wanted to apply to larger crafter/artisan events for 2021 to sell prints, too, my mom and I looked online for someone local who sold mats and we found you! Your mats make my drawings extra nice--we use different colors that compliment each one, and I think people like buying a ready-to-frame piece."
Lily recently launched an Etsy shop, www.etsy.com/shop/artcreatedbylily/, where you can view and purchase her work. You can also find and connect with her on Instagram, @createdby_lilyyllescas.