"Pascagoula Sunset" by Jeff Baldock pictured above.
Jeff Baldock is a photographer based in the Mississippi Gulf Coast. He began taking photographs in 2014 after retiring, and has been expanding his skills ever since. "After spending 40 years in the chemical industry, I took up photography in 2014 as a means to stay out of my wife's hair as an early retiree. As a resident of the Mississippi Gulf Coast, there are many opportunities to capture Coast life, as well as beautiful sunrises and sunsets. My photographic world has expanded beyond the Coast, as I have photographed upwards of 140 of Mississippi's historic downtowns at night. I am now taking those adventures beyond our state as I travel the country in pursuit of beautiful landscapes." On his website, www.jeffbaldock.zenfolio.com, he offers his prints for sale, portfolio for viewing, and more.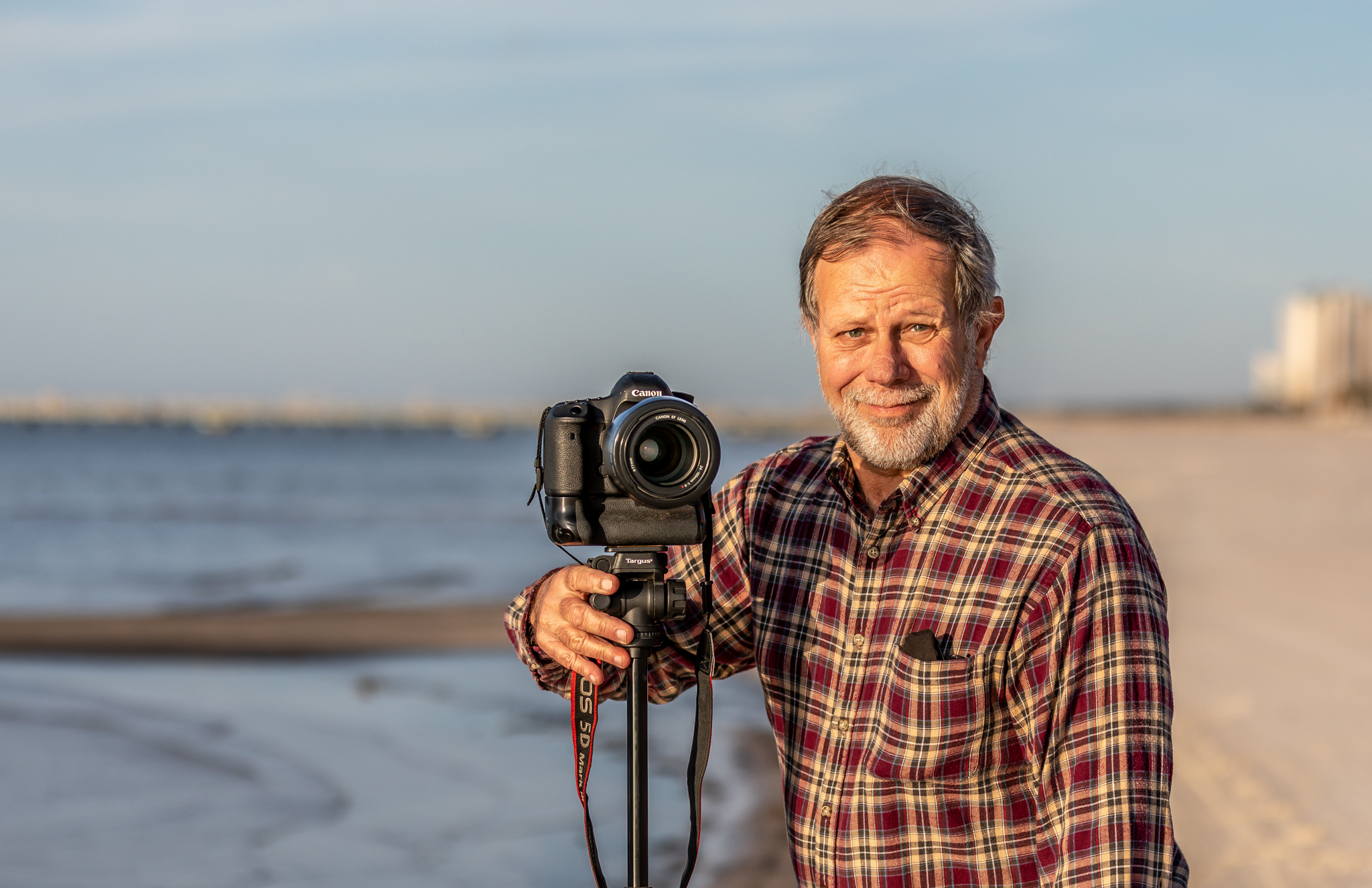 Jeff was inspired to begin in photography in order to keep busy after retiring. "I bought my first DSLR camera in 2014 because I was intrigued by high dynamic range (HDR) photography. I needed something to keep me busy." He enjoys the lessons the craft teaches and the process. "Photography teaches me patience and to enjoy the surroundings of nature around me. I find editing my images very relaxing. Seeing the end result of a framed piece that I created is very rewarding!"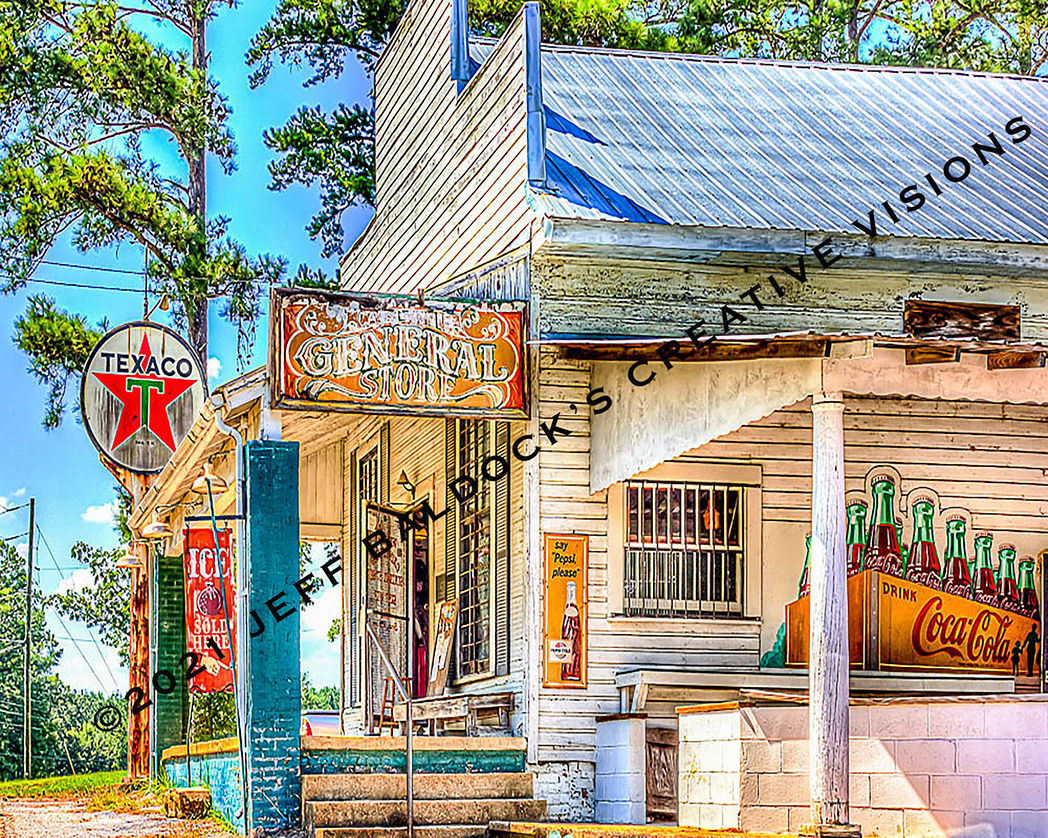 "Causeyville General Store" by Jeff Baldock pictured above.
His favorite photograph of his is one of his earlier pieces, taken in 2015 on his birthday in New Orleans. "One of my favorites, and also my best-seller, is a scene that I shot in New Orleans at 4:30 in the morning on my birthday in 2015. That image alone is approaching $8,000 in combined print, framed print, canvas and metal sales. Captured one year after I started!" He enjoys capturing landscapes and traveling to other parts of the country to expand his horizons. "I definitely consider myself a landscape photographer, though I do some commercial photography as well as people photography. I have photographed many of the shrimp boats on the Mississippi coast and have ventured into Alabama and Louisiana for similar subject matter."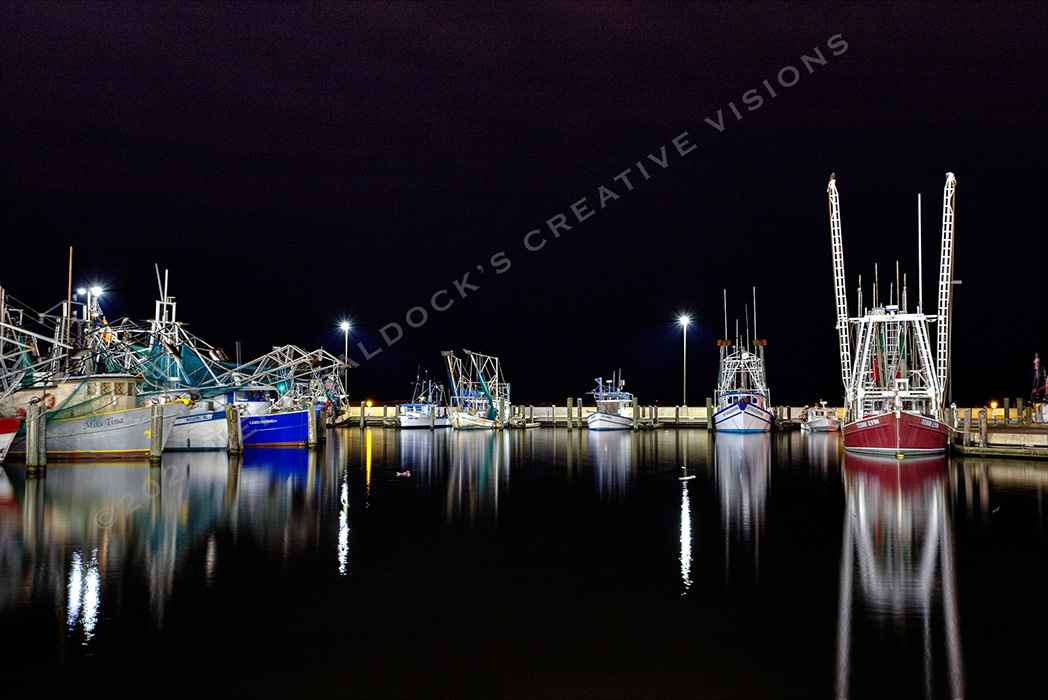 "Smooth Waters" by Jeff Baldock pictured above.
Jeff finds inspiration when beginning a new project or piece from the location itself. "Before I begin a travel journey to a location or state, I spend much time researching the area, history and subject matter. I just came back from a 10 day photography trip to the coast of Maine; shooting lighthouse images for one of my 2022 calendars. I spent about 2-3 weeks researching the state's lighthouses to determine where I would shoot. I also looked at other landscape opportunities in the 3 areas of the state that I stayed at." To aspiring photographers, Jeff suggests always be learning something new. "Learn something new every week! I spend at least 2 hours every week learning from others via YouTube. Early on, this included how to matte and frame my photography. I tell others that I am a graduate of YouTube University; being pretty much self-taught."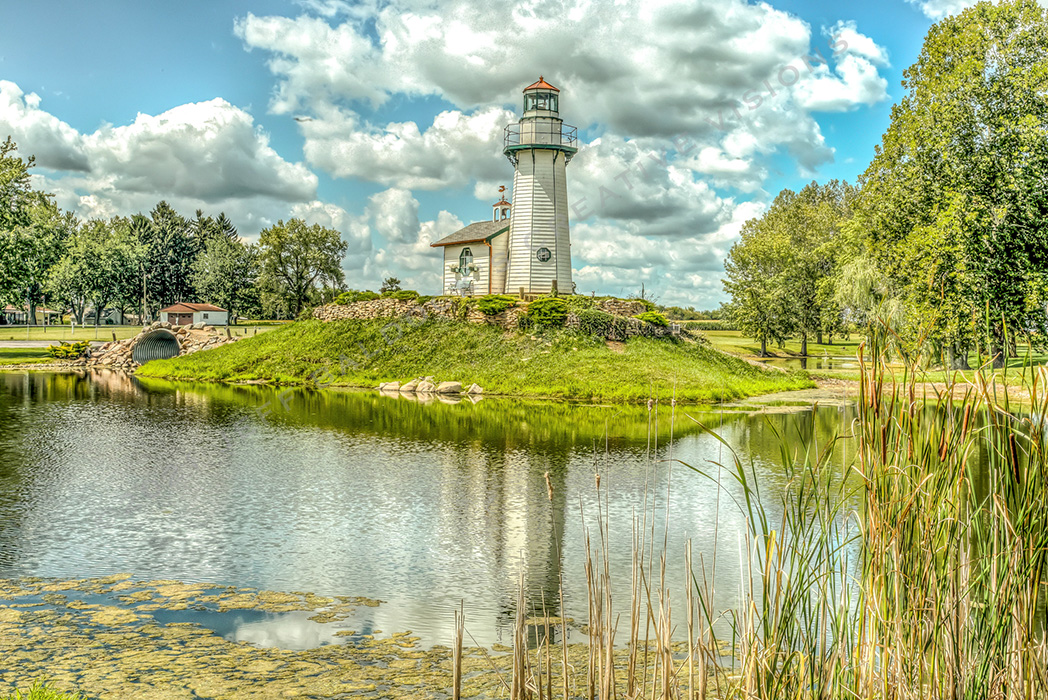 "Country Lighthouse" by Jeff Baldock pictured above.
Jeff found Golden State Art online when searching for matting for his prints. "I needed matting supplies and found Golden State Art through a Google search. I have used Golden State Art for my matting supplies since 2016 when I first started marketing my photography. Because I do most of my own matting and framing, Golden State Art's products are an integral part of my product in selling prints and framed art. Though I cut many of my own mattes too, if I have a large job, it is easier and quicker to order in quantities! My shelves are full of many sizes of mattes, backboard, clear sleeves and matting tape."
View more of Jeff's photography and connect with him at the links below:
Jeff's Website:www.jeffbaldock.zenfolio.com
Jeff's Instagram: @jbaldock1
Jeff's Facebook: @jbaldock74