Allison Daw is the artist behind Day Three Creations, an online shop offering herbarium specimin art. Now residing in New Orleans, Allison was born and raised in Colorado where she fell in love with the art, nature, and science. In 2013 while living in a town near Portland, OR, she began selling her artwork in which she creates art from pressed plants from various locations. "My collection of pressed plant artwork now includes plants from the Rocky Mountains, the Pacific Northwest, and Southern gardens. We still sell the originals, but our main focus is the prints which are made from high resolution scans of the originals." Allison now resides in New Orleans, Louisiana. You can view and purchase her artwork here.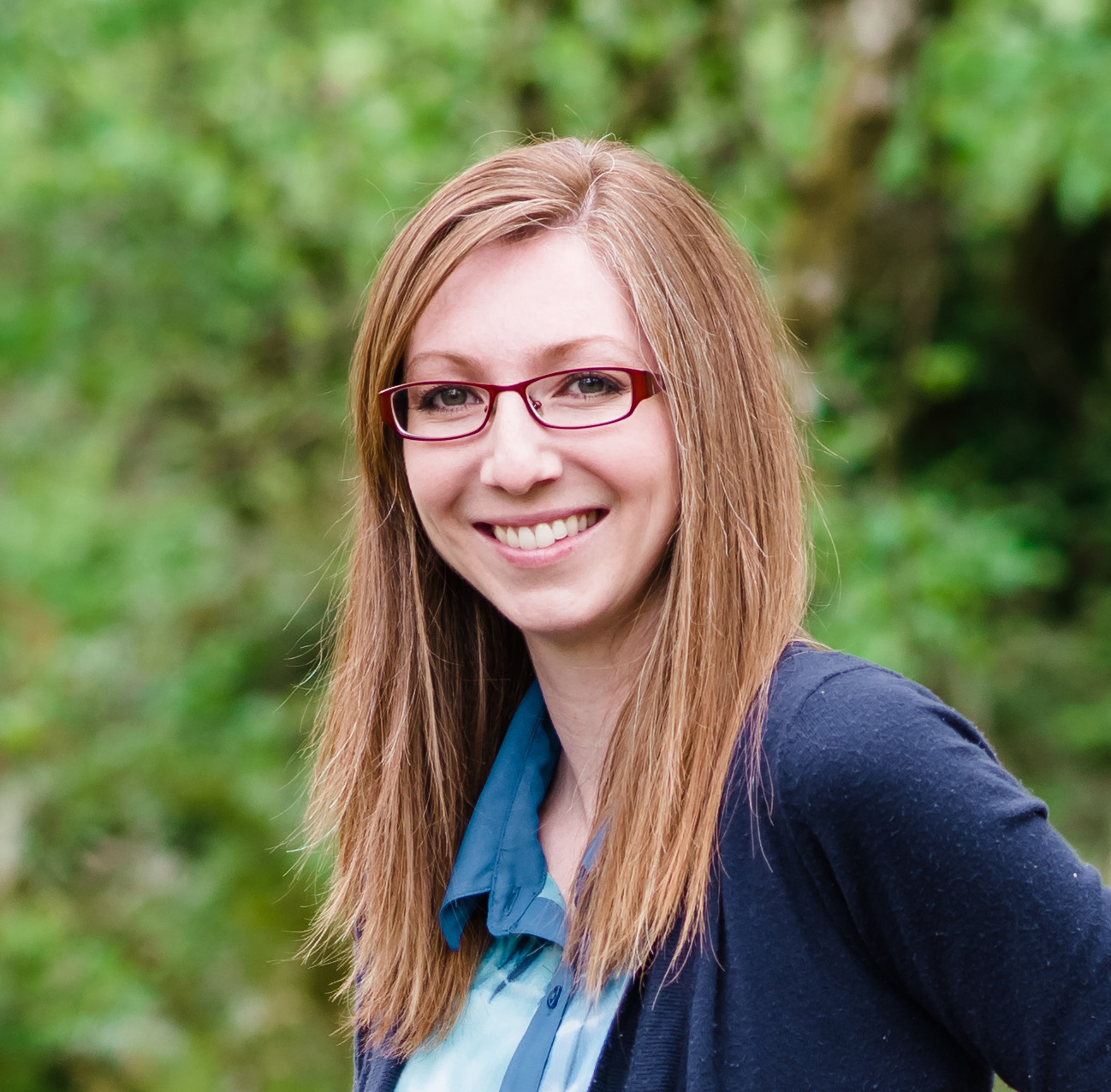 Allison was inspired to start creating art by both her elementary school art teacher and Bob Ross when she was seven years old. "My educational background is in biology (B.S.) and botany (M.S.) (nothing very artistic!), but that is where I learned to collect, press, and label plants for scientific use. When my husband transitioned from his career in engineering to begin seminary, I wanted to help with income while at home with our kids." Having observed the beauty of pressed flowers during her education, Allison realized she could implement them in an artistic way. "Creating artistically arranged herbarium specimens as artwork seemed like it would be the perfect stay at home job for me. (An herbarium specimen is a plant that has been pressed, mounted on paper, scientifically labeled, and stored in an herbarium - a library of preserved plants - for use by researchers.) So, making pressed plant artwork really began out of necessity rather than hobby, though it feels more like a hobby than a job."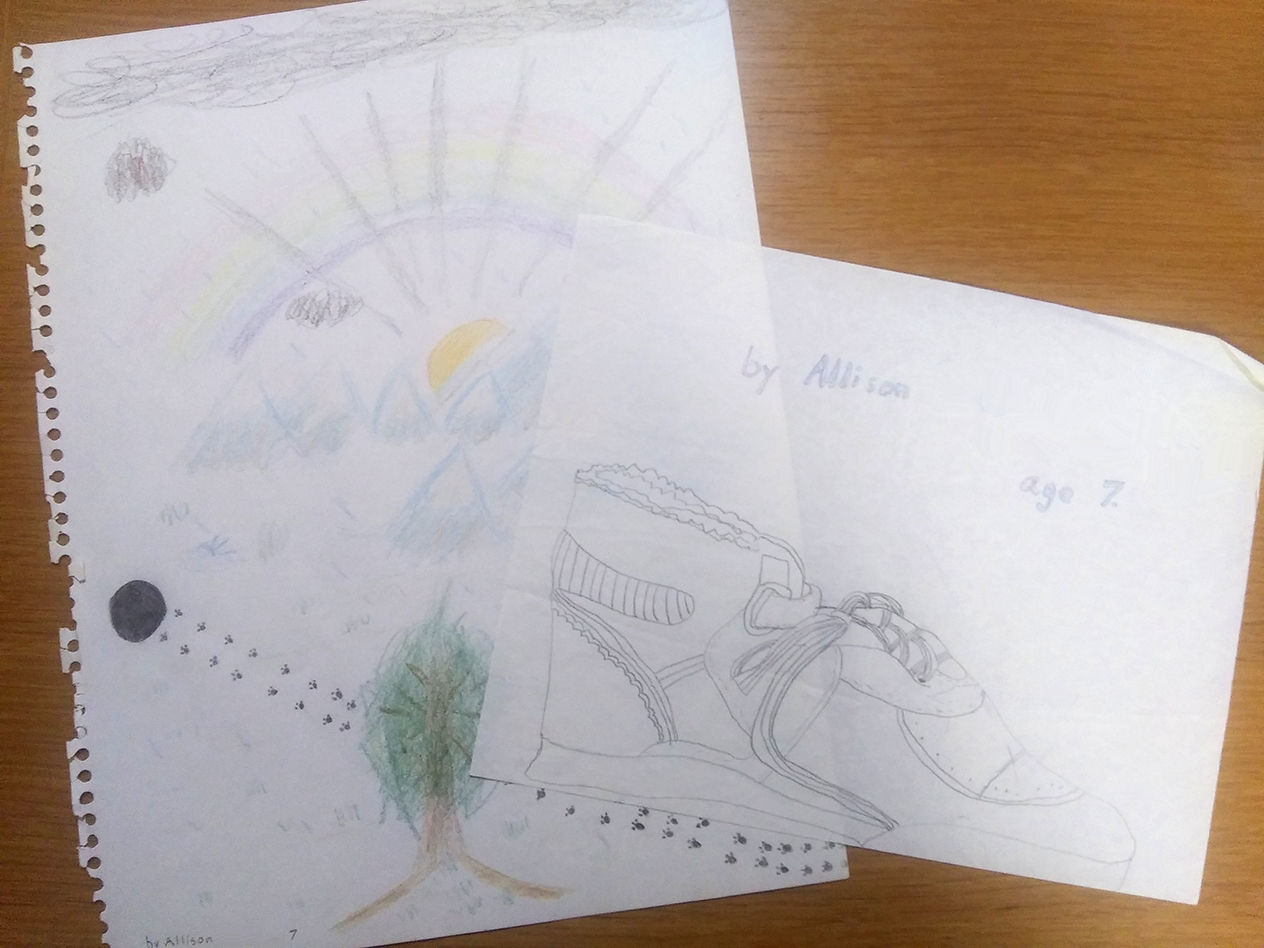 Art by Allison aged seven pictured above.
Allison attributes her faith and ability to spend more time with her family as what she enjoys most about being an artist. "Hands down the thing I enjoy most is experiencing the faithfulness of God as he provides for us through this little business. A close second is that it allows me to stay at home with our kids. Being an artist is one of the ways I'm able to help out our family while my husband is in school. It's very fulfilling. And, after 7 years, it's still hard for me to believe that people would want to spend their hard earned money on my art. It's an overwhelming, yet wonderful feeling."
Allison's favorite piece of hers is the California poppy set. "These were among my first pieces. This is actually a single plant that I had to cut in half. I really like how each half compliments the other. I don't remember if that was intentional at the time or not." She is also inspired by the work of artist Nicola Birch of Deo Gloria Studio (www.deogloriastudio.com) "I especially love all of her still life photography. Very moody and science-y." In her own work, Allison loves creating art from whole plants. "I love collecting and pressing whole plants, including the roots, the best. This is ideal for a true, scientifically preserved specimen, which I aim for, even in my art. Plus, the roots just look cool."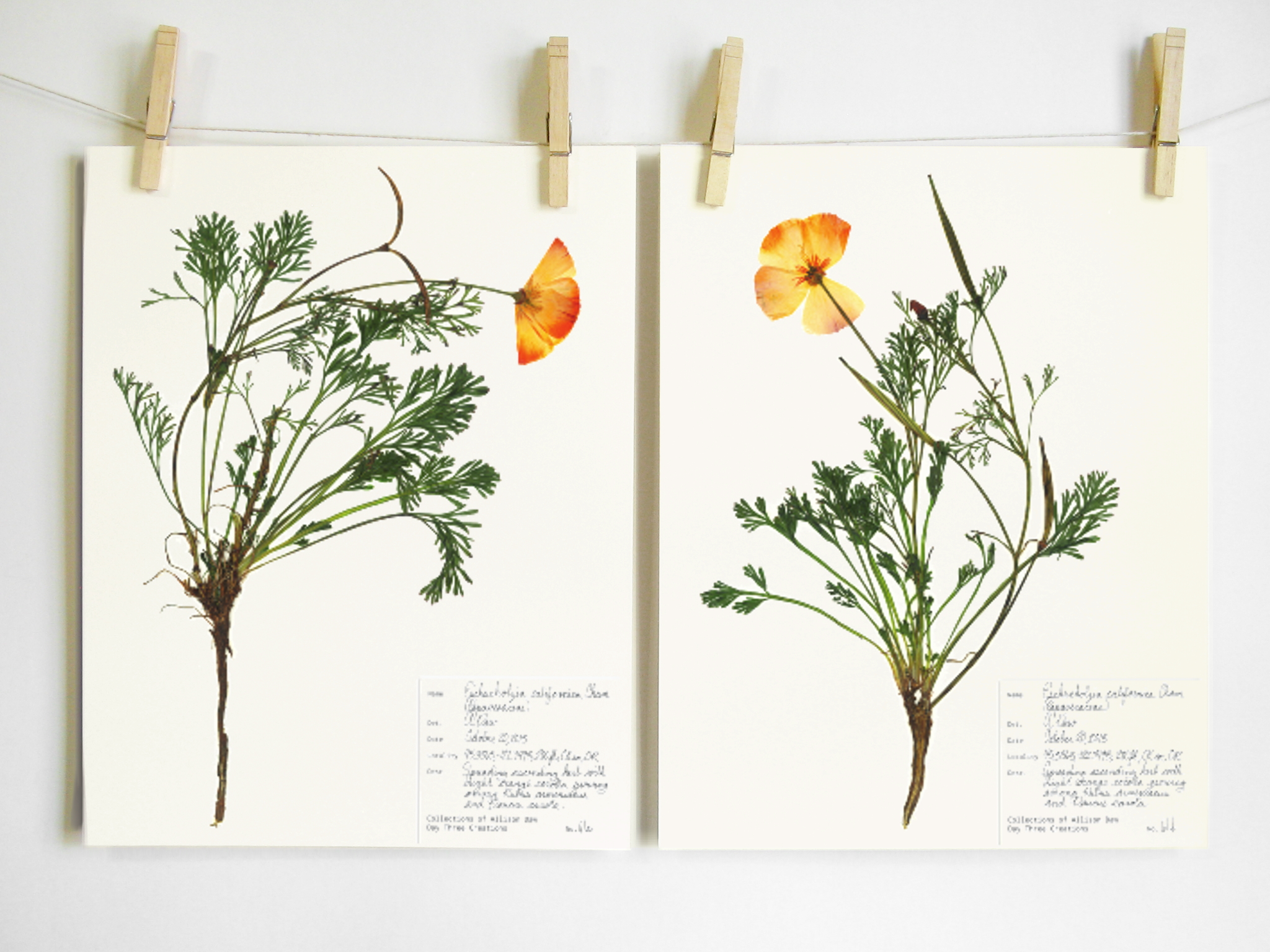 "California Poppies" by Allison Daw pictured above.
When beginning a new piece or project, Allison is inspired by the plants she comes across and which ones stick out to her. "The process usually begins with spotting a plant that I like and that is different from others I have. Sometimes I have an idea of how I think it will look when it's finished. Often I'm wrong. A lot of plants that I think will press well often don't fit the paper well. I'm often equally pleasantly surprised by some plants that look like nothing special but in a sense, come to life after they're pressed. The plant itself inspires how I arrange it after pressing. I don't want the finished result to look too unnatural, no matter how artistically I can force it. I do have a few exceptions in my collection though."
To aspiring artists, Allison encourages keeping an open mind as to what art people will want to have in their home. "If you want to make a living selling art, you almost always have to be willing to make what sells, rather than only what you enjoy. Art is very subjective, so don't take it personally if someone doesn't like your style. And maybe most importantly, connect closely with someone who has good business "sense" and experience to help coach you as you grow your business."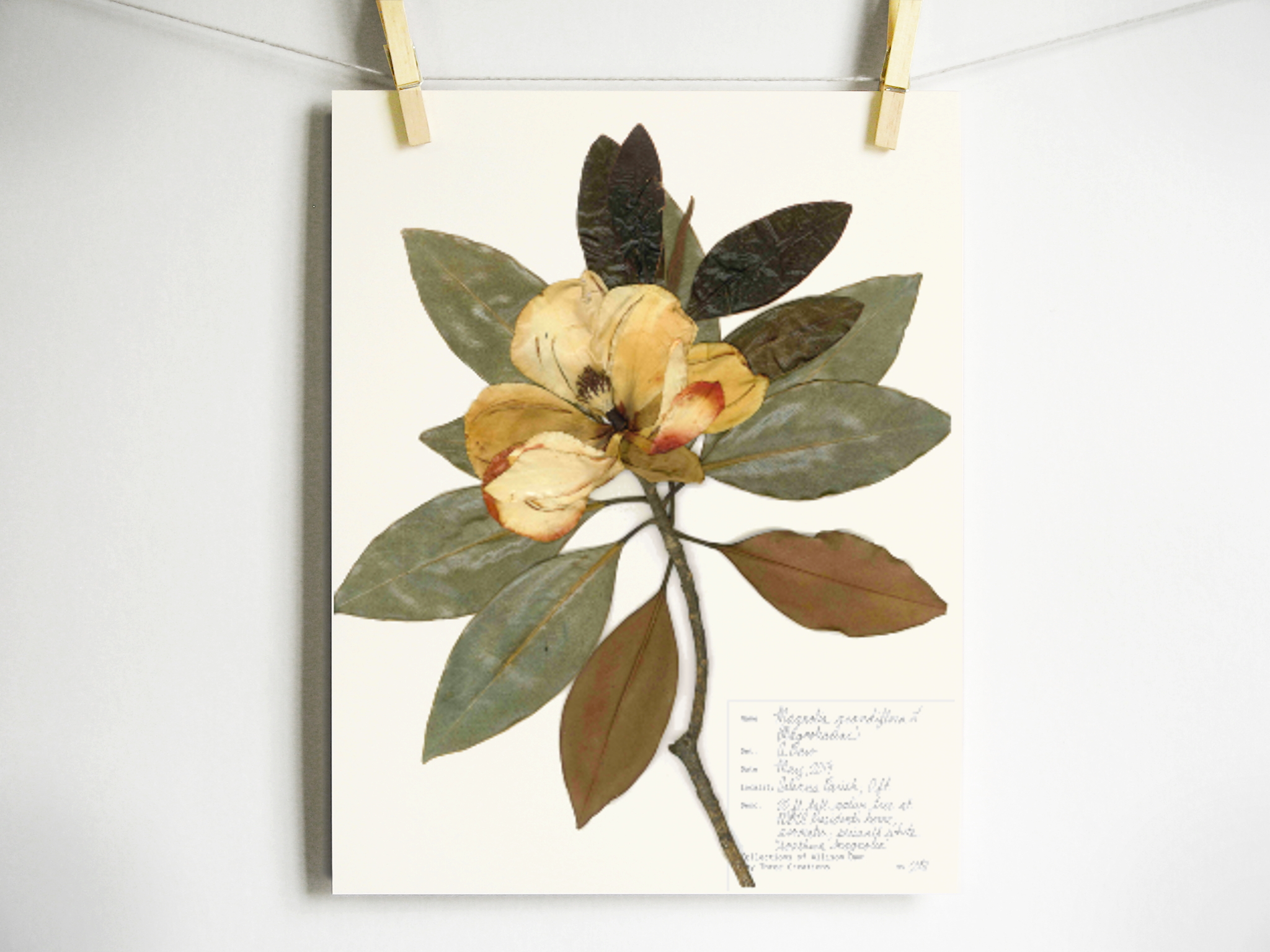 "Southern Magnolias" by Allison Daw pictured above.
Allison discovered Golden State Art through a fellow Etsy seller. "I love Golden State Art! I've been a regular customer for almost 6 years. All of my prints are packaged in your clear sleeves, which I love because the adhesive is not on the flap (like most other sleeves). I don't have to worry about my customers damaging their prints on a sticky sleeve flap (which I did before I found Golden State.) I use your mats and backing for in-person selling. Also, I've always experienced outstanding customer service from GSA. Oh and, the first time I ordered mats you sent me a neat sample of all of your mat colors which makes it easy to make a decision. I'm truly thankful for GSA."
Allison's most recent piece in progress is a pressed fern (pictured below). "This is one of the more "artistic" pieces, as the original plant was huge and included many more fronds than what is shown on the paper. This is maybe 5% of the original plant."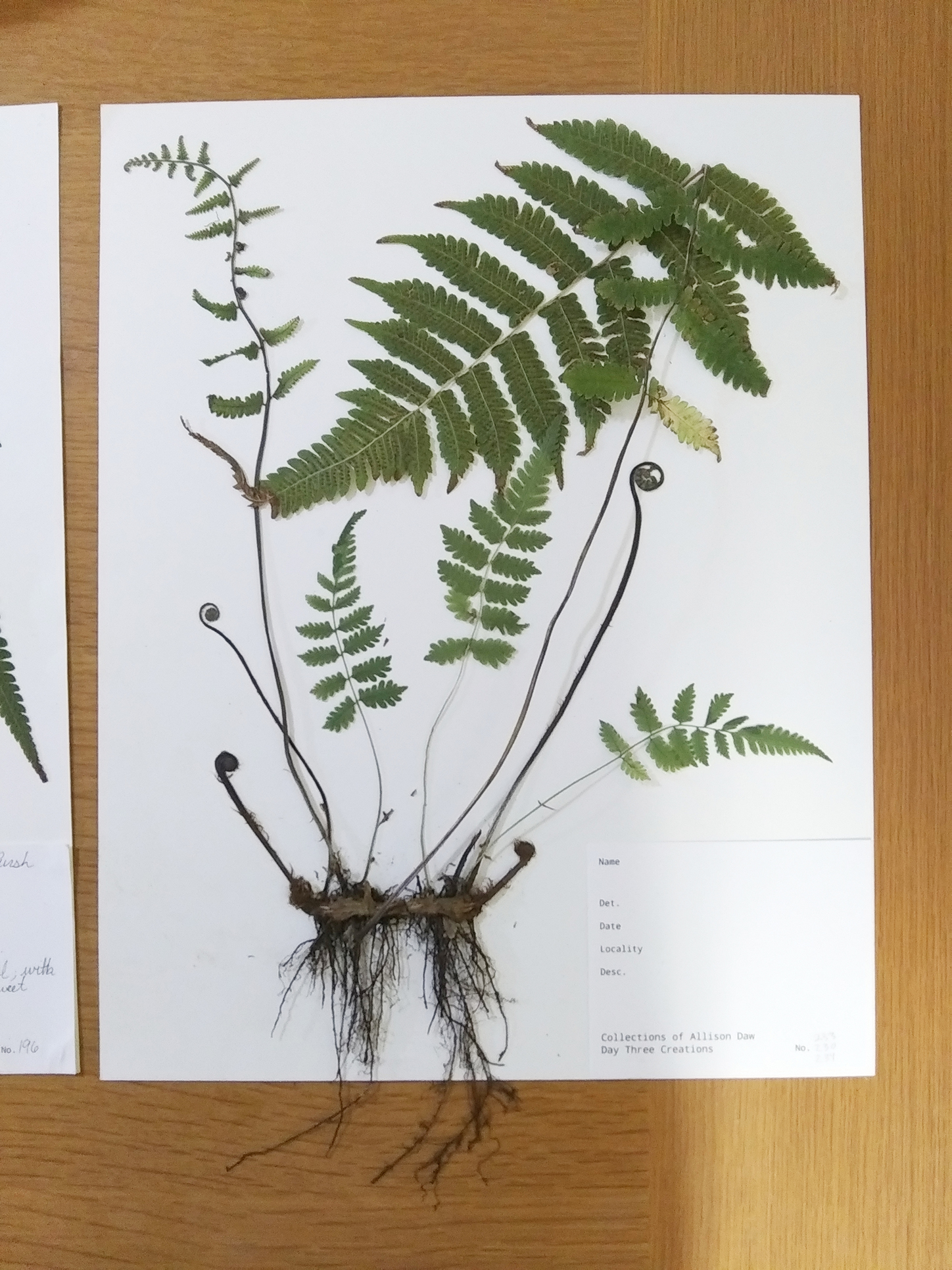 To stay up to date on Allison's current and future projects, visit her website and social media below!
Allison's Shop:www.etsy.com/shop/daythreecreations/
Allison's Instagram: @daythreecreations
Allison's Facebook: @daythreecreations
View more of Allison's beautiful work below!
---