"Rainbow" by Fiammy Dizon pictured above.
Fiammy Dizon is an artist and 8th grade English teacher from San Mateo, California. She has been an artist all her life and has experience with many different artistic mediums including acrylic pouring, mixed media collage, watercolor, and the use of alcohol inks. "In 2018, I stumbled upon alcohol inks and have been head over heels with the medium ever since. I also work currently with resin, watercolor, and mixed media." She sells her artwork via her Instagram page @fiammydizonink.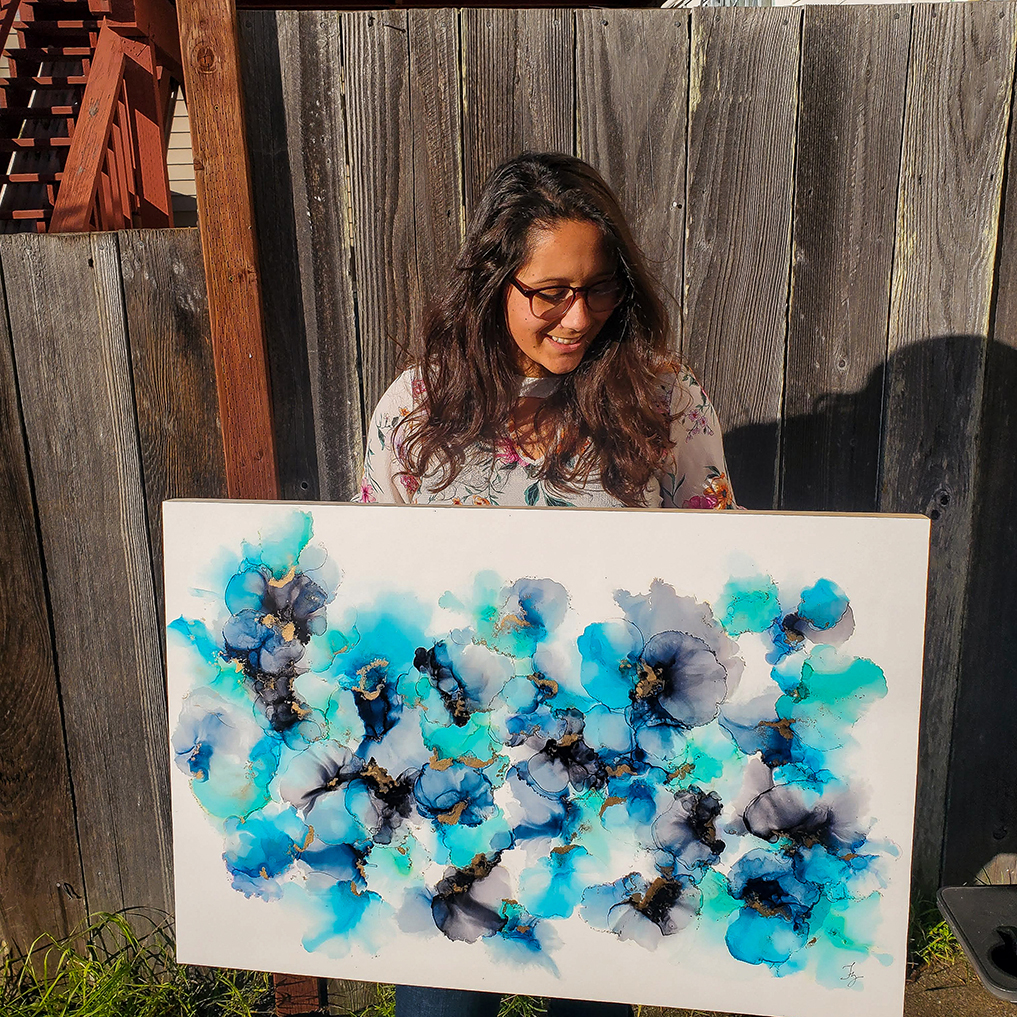 With each piece, I aim to echo my firm belief that everyone and everything on this earth has immense beauty and power; a lesson that is critical for myself as an emerging female artist.
Fiammy is inspired by the beauty of the world in her work as an artist. "My work is inspired by my never-ending quest to discover beauty and poetry in every corner of this world. The abstract shapes and distinct color schemes reflect the diversity, resilience, and joy that young minds reveal to me every day. With each piece, I aim to echo my firm belief that everyone and everything on this earth has immense beauty and power; a lesson that is critical for myself as an emerging female artist. As we embark on life's journey of empowerment and self-discovery, I believe we can all relate to the hard lines, flowing layers, and soft pillowy fades that are best accomplished through this wonderful medium."
She enjoys being an artist for the potential each piece and medium holds. "As a young swimmer and daydreamer who spent most of her school years looking out the classroom window, I have always been attracted to fluidity and motion in our natural world. Since discovering alcohol inks in 2018, I have been inspired by the way the ink and alcohol create dynamic abstract forms against negative space. I am drawn to the undertones that emerge from each of the inks, and the way the metallic mixatives clump, float, flake, and sink. Much like my job as a teacher, I constantly work to master the balance between having a firm control over the medium, and interfering as little as possible to allow the ink to reach its greatest potential independently."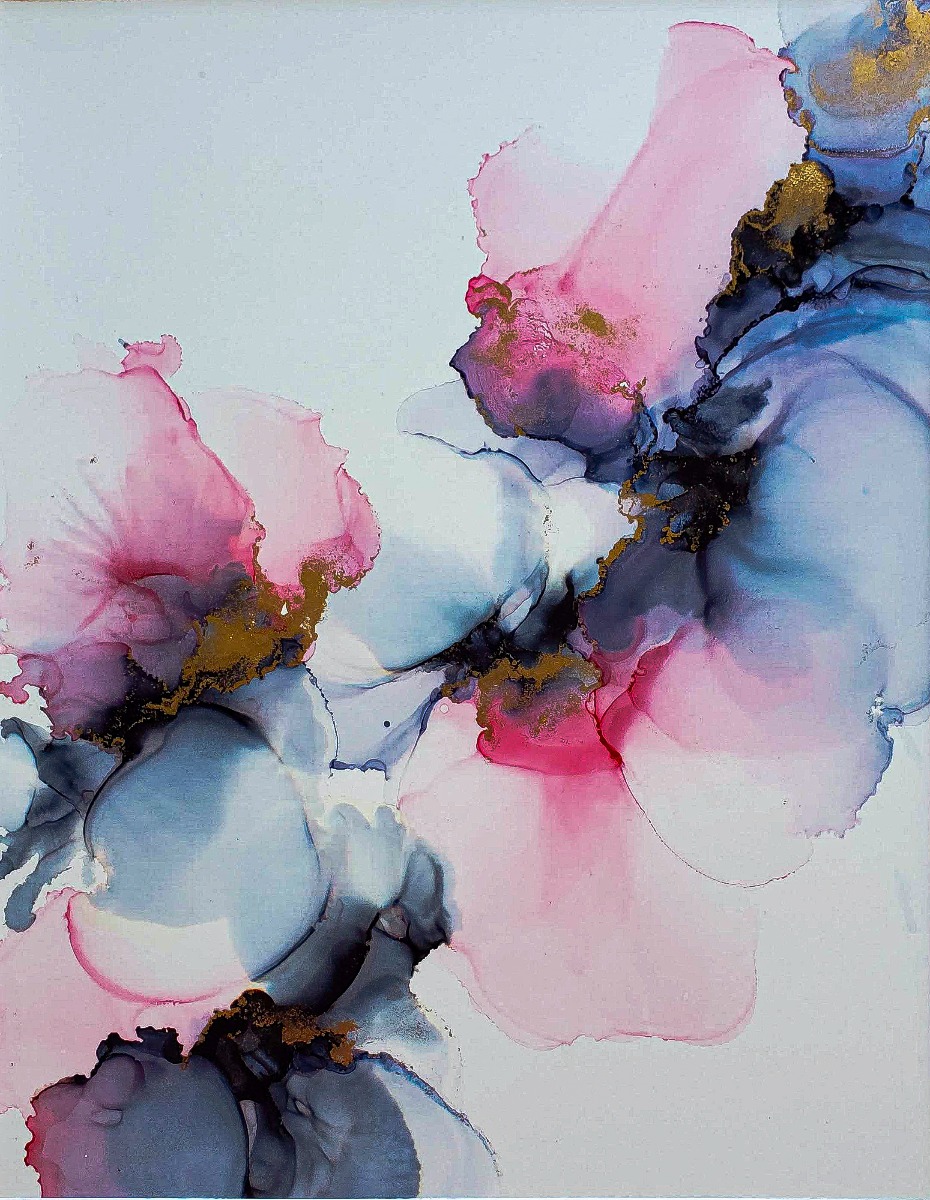 "Orchids" by Fiammy Dizon pictured above.
Fiammy's all-time favorite piece of art if Katsushika Hokusai's "The Great Wave off Kanagawa." "Hokusai finds the perfect balance between abstraction and realism to pay tribute to the beauty and awe-inspiring power of nature. His piece inspired my favorite piece of my own art, which is an acrylic wave canvas piece I created in 2017. For years I had dreamed of making a collage image of a wave using old maps, and my dream came to fruition when I noticed that the librarian at the high school I was working at was throwing away old books. Out of the dumpster I retrieved an old, beat-up atlas, which I later turned into my dream painting, inspired by my favorite piece of art. It now hangs in my living room."
Fiammy enjoys creating abstract fluid art over other techniques. "I think there are too many rigid, hard lines in this world, especially here in the concrete jungle of San Francisco. I feel most free when I am immersed in nature or swimming laps at the pool. This is why I prefer to paint fluidity and movement with an emphasis on color and negative space." Lately she has been completing custom pieces for many clients, inspired by their beautiful and unique personalities when using different colors and forms in their piece. "As a teacher, I am also surrounded by the love and joy I receive from a diverse group of students. Their resiliency and uniqueness inspire me to create something beautiful and unique each time I start a new piece. I often name my pieces after my close friends or students whose stories have stuck with me over the years.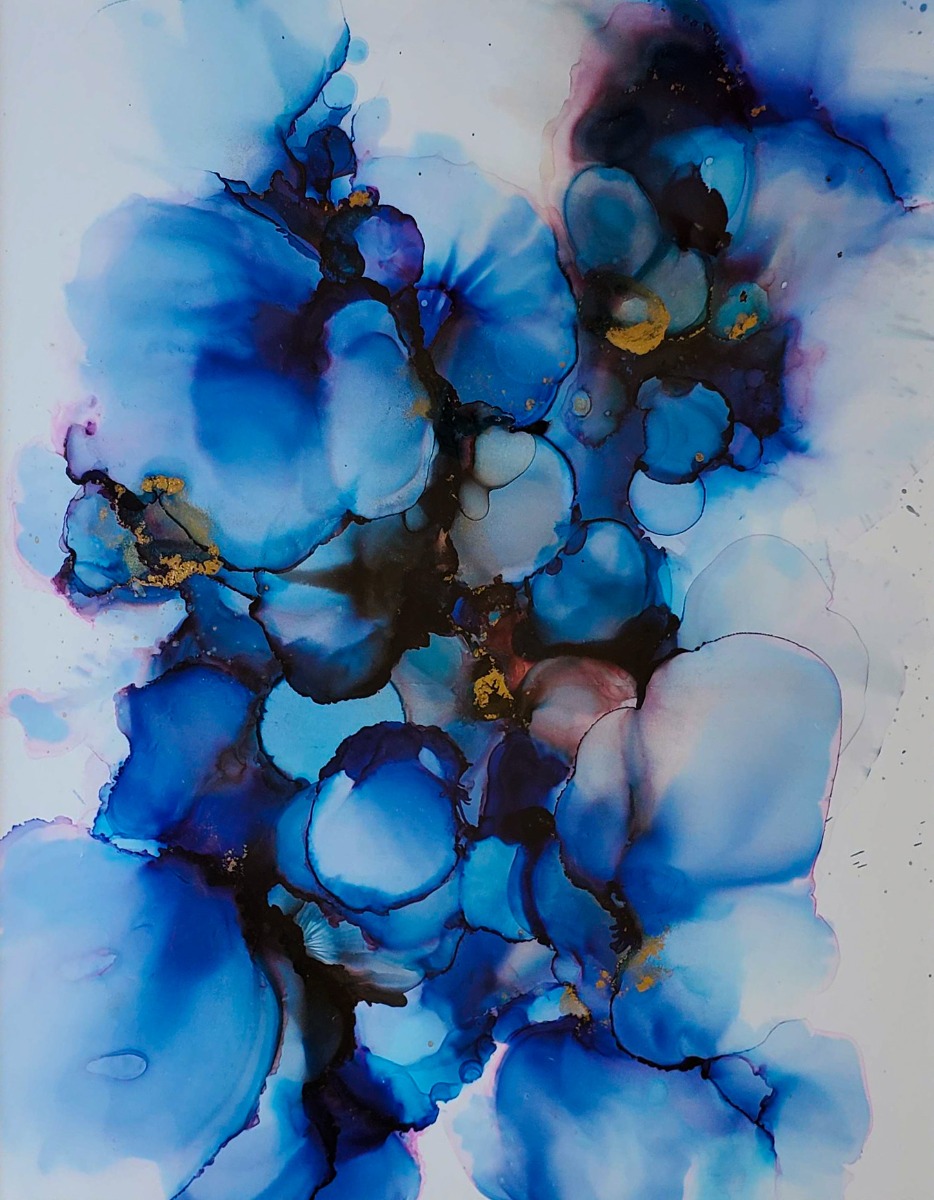 "Sotiri" by Fiammy Dizon pictured above.
Fiammy encourages aspiring artist to never doubt or discredit yourself and your work. "It is hard to place value on art since it is so personal and subjective. Artists feel so closely connected to their pieces, and this connection is muddied when artists have to price and sell their art. The best advice I have received is to never doubt the immense value of your own work and to price and sell it with confidence."
Fiammy lives locally to our South San Francisco location, allowing us to serve her face-to-face in our office. "I am local, so I have had the privilege of finding Golden State Art on my Google Maps and being able to come in and pick up my custom orders. The staff is very nice, and I enjoy being able to shop local. I feel that Golden State Art's products are of the highest quality and most fairly priced. I only buy my mats from Golden State Art. Most of my posts on Instagram that show matted or framed artwork, feature Golden State Art mats."
Fiammy will be working on some new large canvas pieces in the near future that you can follow along with over on her Instagram @fiammydizonink and message her to order her art. View more of Fiammy's beautiful work below!
---