"Iberian Wolf" by Brooke Connor pictured above.
Brooke Connor is a wildlife and children's book illustrator based in Boulder, Colorado. Brooke began her career as an illustrator after "finally remembering she preferred her right brain and started drawing again." Before beginning her artistic career, she obtained an MS Degree in Chemistry and worked in environmental chemistry for 28 years. She offers many drawings on her website and Etsy shop, and you can view the children's books she has illustrated here.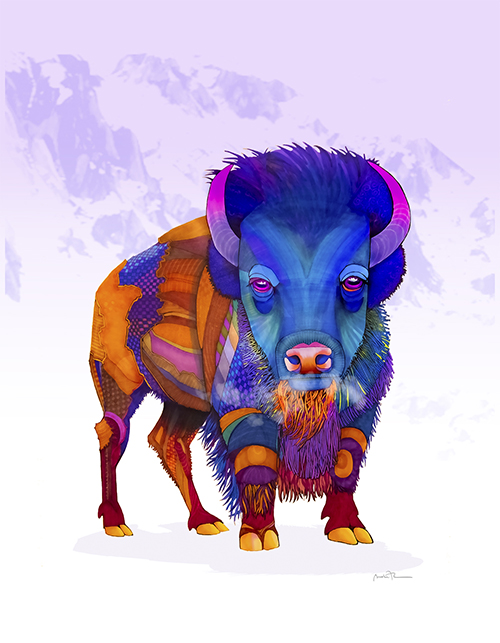 "American Bison" by Brooke Connor pictured above.
I love doing art because it allows me to sink deep into whatever I'm doing and to me, the rest of the world disappears.
Brooke was inspired to illustrate for the happiness it brings to herself and to others. "I love eye candy. When my eyes are happy looking at something, then I am happy too. Creating something that I like to look at, and that lots of other people like too, takes happiness to the next level." She loves illustrating for the experience of getting lost in a project. "I love doing art because it allows me to sink deep into whatever I'm doing and to me, the rest of the world disappears. It's a great feeling to be completely lost in projects such as sprucing-up a drab brown bear into a color explosion."
Aside from her own art style and genre, Brooke enjoys many other artists and genres, especially pastel landscapes such as those from artist Julianne Miller of Evergreen, CO. She also loves oil paintings, "when the colors pop." Brooke's love for pops of color is evident in her own, beautiful artwork. She herself illustrates many species of wildlife and has a passion for drawing birds. "Family trips often center on bird watching and enjoying the flora and fauna."
Brooke finds inspiration in nature and its colors "My inspiration mostly starts with seeing a pop of color in nature, determining how or why it is "loud" compared to other colors in the scene, and then rushing home to draw. For example, the sun shining through a fallen leaf on the forest floor can be the most intense orange - making you squint it is so bright. Or it can be just brown washed out with too much light. Why did the orange one become soooo orange?" The advice that Brooke offers to aspiring artists is to just do what you love. "The good news is: if you love doing visual arts then, do it. The bad news is: sometimes you have to work at it."
Brooke found Golden State Art through an internet search while looking for quality matting products for her artwork. "I was searching for good quality mats for my artwork, and a google search led me to Golden State Art. Consistent quality is so important for artists and photographers selling high-quality prints. The beauty of a print can be completely obscured by cheap looking matting materials."
---
View more of Brooke's artwork below. Visit her website and Etsy shop to view and purchase more. Connect with her on Instagram @brookeconnordesign and Facebook @brookeconnordesign.